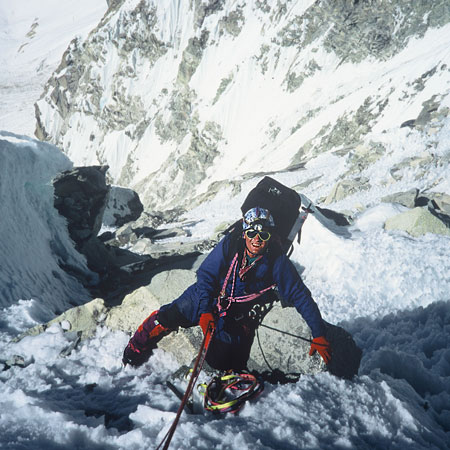 Joe Simpson
This legendary mountain survivor uses his experience for amazingly inspirational keynote presentations
His story became a BAFTA award-winning film and has now been turned into a West End theatre show
The best selling book has been translated into over 20 languages and won several first prizes
His heartfelt and motivational talks are accompanied by photos and video footage
Clients include Proctor & Gamble, Red Bull, Saatchi & Saatchi, Sony, BMW, JP Morgan and many others
World-famous Mountaineer and Keynote Speaker
Joe Simpson, one of the world's best-known mountaineers, has drawn from his experiences to become a leading author and motivational speaker.  "Touching the Void", the story of his amazing survival, having shattered his leg and been left for dead in a crevasse high in the Andes, has sold over a million copies worldwide.
Joe Simpson now brings his knowledge and powerful stories to the corporate sector as an amazing motivational speaker. His story, Touching the Void, can be tailored to provide relevance and motivation for virtually every type of business audience.  His presentations can be focused on a variety of topics including Teamwork, Leadership, Personal development, Risk assessment, Management style, and Training.
Having completed his first corporate speech Joe received phenomenal feedback: "I am writing to heap enormous praise on Joe Simpson for the incredible motivational speaker presentation he gave.  Joe added a new dimension to our meeting, not just through the power of his story, but also through his inspirational speaking qualities.  We would have absolutely no reluctance in recommending Joe to anyone."  National Sales Manager, Hoechst Marion Roussel. Thirteen years later, Joe Simpson has developed a reputation on the speaking circuit which is second to none.
Having spoken to a wide variety of audiences of varying nationalities, Joe has consistently exceeded all expectations. His presentation as a motivational speaker is supported by an "all action" introduction video and stunning photography.
Touching the Void Film
Following the sale of the movie rights of Touching the Void to Tom Cruise's and Sally Field's movie company, the rights to a 90-minute drama-documentary were sold to the independent producers Darlow Smithson, working for Channel 4 and PBS.  It has been distributed in the UK cinemas by Pathe and in the USA by IFC.  The drama-documentary film of 'Touching the Void' won the 2004 Baftas Outstanding British Film of the Year beating 'Cold Mountain', 'Love Actually' and 'Girl with a Pearl Earring' and The Evening Standard Best film of the year 2004. It is now officially the most successful documentary in British cinema history. Promotional work for the film included extensive interviews, including BBC World News Hardtalk, Letterman and Oprah.
Award-winning author
His sixth book, "The Beckoning Silence", was published in January 2002 and was made into a stunning documentary that was first broadcast on C4 in October 2007.  'Touching the Void', the best-seller translated into 22 languages, won the Boardman Tasker Prize 1988, NCR Non fiction Award 1989, Deutsches Literaturpreis 1990, and Premio del Libro di Montagna 1993.  It has sold over two million copies worldwide.  He is also the author of the novel 'The Water People' and non-fiction works 'This Game of Ghosts', 'Storms of Silence' and 'Dark Shadows Falling'.  To date, all his books have been short-listed for the Boardman Tasker Prize.  In late 2009, Joe re-visited the Himalaya range where, in a solo climb, he succeeded in conquering a new route on the southwest face of Mera. Joe's second novel. 'The Sound of Gravity', was published in September 2011.
Speaking Topics:
Joe Simpson's presentation, 'Touching the Void', has become one of the all-time classics of mountaineering, hailed as an account of psychological, even philosophical witness of the rarest compulsion.
It is a tale of two men thrown into a nightmare of terrifying life and death choices and heartbreaking decisions.  It is about agony and terror, courage and weakness.  It tells of trust and friendship tested to the very limits of human endurance. It is about the triumph of the human spirit, the immense instinct to survive and the innate strength we have within us to succeed.
The appeal of Joe as a speaker is that he tells his story in an unassuming, articulate and often humorous style.  He refrains from giving patronising analogies between his exploits and the jobs of the people in the audience, preferring that they draw their own conclusions from the multitude of key messages that are wrapped up in his story.  The overriding feeling is one of total amazement and that no matter how tough things may get, there is a way to not only come through it, but to achieve even greater goals. 
The speech lasts for 60 minutes, and touches on the following themes, which are important in the lives of every individual:
planning
strategy
risk
teamwork
goal setting
leadership
responsibility
decision making
motivation 
" Joe's very personal account of how he survived against all the odds, made for a very powerful presentation at our Annual Sales Conference. We were most impressed. His presentation was both inspirational and moving but laced with a good measure of appropriate humour. People were left very uplifted and inspired. "

Marketing and Communications Manager, Vodafone Corporate
" The 200 or so CEO's who attended, universally praised your enthusiasm and passion...the comparisons of your story with the pitfalls of business were clear to everyone. One of many comments from delegates were... `this is one of the most gripping presentations I have seen (and I've seen plenty), Joe can really make us question how hard did we try and were we really committed "

Chief Executive, TEC International (USA)
" Joe is a very gifted communicator who held our international audience of more than 200, in the palm of his hand, for one hour……..I had the onerous task of trying to close the meeting after he had left the podium and confess that I was completely lost for words….I recommend Joe Simpson very highly indeed. I have heard a lot of sportsmen and motivators speak, making links between their world and the world of business and their words are instantly forgettable. Joe spoke from the heart and stole the show. Everybody was blown away and I'm sure they will remember the occasion for many years to come, as will I "

European Marketing Director, TDI
" I was speechless at the end of Joe's presentation – the casual, informal, personal and captivating way in which he tells his remarkable story held my attention for every second. In terms of achieving my objectives by impressing the audience with the strength and ability to meet tough personal challenges and goals, Joe achieved this 100 percent. He has become a subtle role model for many of our staff in terms of handling challenges and achieving goals. "

Sales Manager, ICL
" He was absolutely superb and took the audience on such an amazing journey of emotions. Everyone loved him! Thank you! "

Event Manager, Barclays