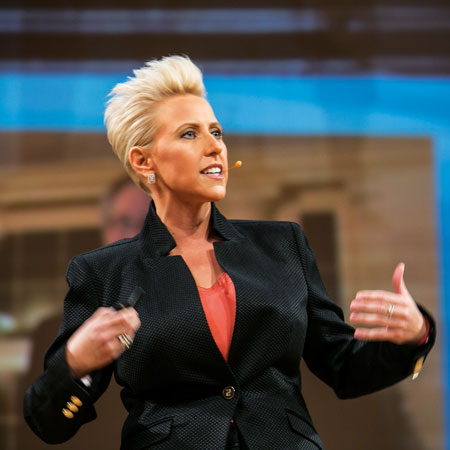 Keynote Speaker Laura Schwartz
Laura Schwartz is an unforgettable, motivational and actionable high-energy speaker
Our professional speaker delivers customised presentations while incorporating key messages and client objectives
Each presentation is packed with powerful tools to propel your audience to the next level in business and beyond
Her international experience and career allows her to connect and influence all cultures, ages and industries
Based in Chicago, US, Laura Schwartz is available for bookings worldwide
Keynote Speaker Laura Schwartz PHOTOS
Laura Schwartz has been taking her empowering presentations to stages across the world since 2001 and is well known for her dynamic keynotes and as a mistress of ceremonies for multi-day conferences and events. 
Whether addressing an intimate gathering of 30 or a crowd of 30,000, Laura captivates audiences with her positive energy, expertise and enthusiasm. 
Laura enjoys collaborating with speakers' bureaus, meeting planners and the client to successfully provide services to meet the specific goals of the client and the event. Just as she says in her keynotes; it is not only the Return on Investment (ROI) that Laura strives to achieve for every client but the Return on Experience (ROE) at every event. Her approach is to research and listen before she even begins to speak.
Named one of the Best Keynote Speakers by Meetings and Conventions magazine and one of seven American speakers who exceed and surpass expectations by Successful Meetings magazine, she delivers customised presentations while incorporating key messages and client objectives to ensure every keynote is relatable and relevant to the audience at hand.
She specialises in the following topics:
Leadership
Networking
Motivation
Female leadership and empowerment
Behind the scenes at the white house
US politics
Laura sought out an award-winning motion picture studio to design her presentations to ensure that her keynotes look like no other. PowerPoint presentations may have a place and a value, but for her general session keynotes, Laura wants the audience to experience something different from anything they've ever seen at a breakout or general session. She seeks to re-imagine, re-energize and re-engage each audience by delivering messages they can learn from, incorporate into their lives and never forget!
Laura has received high marks for her work as emcee for many prominent corporations including Hewlett Packard, Microsoft, Mercedes Benz, Cathay Pacific, HSBC, BlackRock, Pacific Life, MACY'S, Hilton Worldwide, the Oprah Winfrey Network, Hyatt, NBC Universal, PepsiCo, Coldwell Banker, Asembia Pharmaceutical and more.
Discover more of our keynote speakers, and contact our team to find out more.