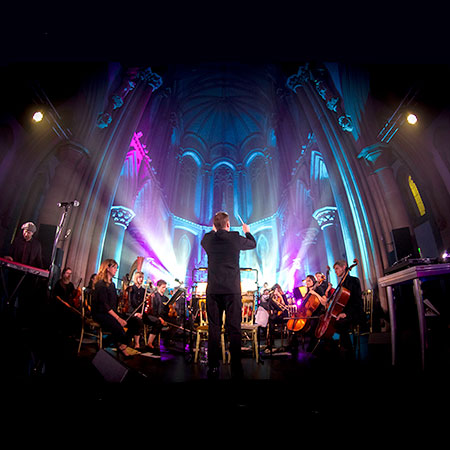 Live Classical Dance Orchestra
Exceptional Classical Orchestra with DJ performs traditional music in a modern ibiza style
Successfully performed dance music at some of the worlds biggest clubs including The Hacienda and Cream
Wow factor nightclub entertainment complete with live musicians DJ's and singers
Perfect live music option for festivals, nightclubs and corporate events
Available to perform in Manchester and across the UK
Live Classical Dance Orchestra PHOTOS
Our Live Classical Dance Orchestra based in Manchester, UK combine both classical and dance music to create the ultimate clubbing experience. This type of classical dance experience was first brought to fame by Radio 1's Pete Tong, and now many venues are looking for a classical dance orchestra to perform exclusive nightclub entertainment with dance music. The band provide your guests with the ultimate orchestral-rave experience.
This full-scale performance based in Manchester has previously featured on BBC TV News, and in the Metro Newspaper and Big Issue as well as other national news publications. This Manchester, UK based nightclub entertainment options transform the space they perform. The band has previously performed dance music in cathedrals, nightclubs on TV and festivals. 
Our DJ along with his musicians have successfully played at some of the worlds biggest clubs including The Hacienda and Cream. Depending on your venue and requirements our Live Classical Dance Orchestra can provide from 10 up to 50 musicians to bring the wow factor to your event. 
Both directors of our live classical dance orchestra have successful careers in the music industry and have created orchestral soundtracks for video games such as Marvel Avengers, Batman, Simpsons and Mission Impossible. Also heading our Manchester based Live Classical Dance Orchestra is an experienced conductor who's worked with the BBC as a Philharmonic musician. 
Scarlett Entertainment has an extensive roster for you to choose from including; DJ's with musicians, brass bands and orchestras.
If you would like to hire this spectacular Manchester, UK based nightclub entertainment option then please get in contact with one of our Entertainment Coordinators who will be happy to help you book Live Classical Dance Orchestra