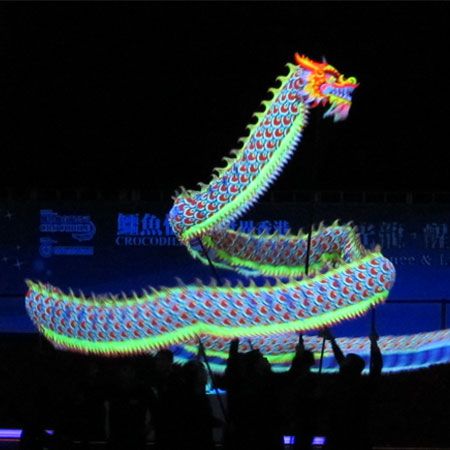 Luminous Dragon Dance
Award winning, traditional Chinese Dragon Dance troupe
Stunning, brightly coloured luminous UV painted dragon
Memorising, speedy, elegant yet aggressive dance movements
Have won 'Silver Dragon Award' in the National Dragon Dance Competition
Based in Singapore and available to perform at events worldwide
This award winning Dragon Dance troupe, were officially established in 1989, and began only as a way for the group to learn the cultural dance, a wonderful, celebratory Chinese traditional art.
With their hard work and pure determination, the dance troupe won the 'Silver Dragon Award' in the National Dragon Dance Competition, with their very first entry.
The Luminous Dragon Dance troupe have represented Singapore and took part in several major international championships and won many prestigious awards. Since then, they have established themselves worldwide in both the Dragon and Lion Dance circle, gradually expanding and progressing.
A luminous painted dragon consists of nine sections of bright colours in the dark. The audience will be memorised by the speedy and elegant yet aggressive fast movement of the Luminous Dragon performance, which also displays the teamwork of up to 13 dragon-dancers. The effects of using ultra violet light to portray their dragon soaring in the dark will leave a lasting impression upon any audience and a great experience.
IDEA ARTICLES RELATED TO Luminous Dragon Dance