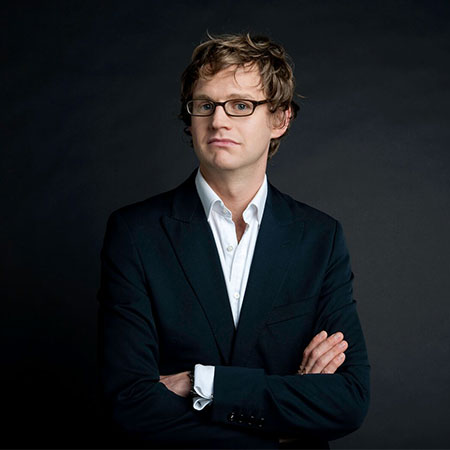 Mark Dolan
Quick-witted and charming celebrity guest speaker will ensure your event is a success
Famous stand-up comedian has hosted several TV shows and participated in numerous TV programmes
Talented public speaker wins audiences over with a combination of tasteful humour and warm audience interaction
Has hosted numerous award ceremonies and The Dark Knight Premiere' at the Odeon Leicester Square for Warner Bros
Mark Dolan is based in London and available for bookings all over the world
Mark Dolan is a stand-up comedian and celebrity guest speaker who will ensure any conference, seminar or ceremony is an occasion to be remembered by audiences. Eloquent, charming and funny, this British presenter and compere will win audiences over with his mix of tasteful humour and warm audience interaction.
Best known for his TV appearances, Mark's Channel 4 documentary series 'The World's…and Me' has been highly praised by experts and viewers. After this critical and rating success, this celebrity stand-up comedian published his first book 'The World's Most Extraordinary People…and Me'.
This celebrity guest speaker was also a contestant on Channel 4's 'Come Dine With Me Celebrity Christmas Special' and other past credits include 'Balls of Steel' and Chanel Five's 'Urban Legends', among many others, and he is also a regular face on London stand-up circuit.
His experience as a stand-up comedian has helped him become a popular after dinner speaker. He is one of the most in-demand British presenters and comperes with a night residency at The Amused Moose, one of Soho's leading comedy venues. On top of that, he has participated in the Edinburgh Festival performing his one man show 'I'm Here To Help' in which he helped members of the audience solve their problems and also in the Fringe Festival.
Mark is currently involved in various TV projects. He hosts the comedy show 'Show Me The Funny' on E4 and the night talk show 'The Last Word' on More 4. Mark is working on another live comedy show called 'The Sex Guru'.
A versatile presenter and compere, Mark feels comfortable hosting conferences, seminars, awards and other events in front of large audiences. A talented public speaker, he has hosted the launch party of the Edinburg Festival and 'The Dark Knight Premiere' at the Odeon Leicester Square for Warner Bros. Other important projects as a presenter include the 1st Annual Freelancer of the Year Awards, the Financial Tomes PIPA Awards, etc., and he has also chaired the Sky Movies Debate: Which is The Best Batman Movie? to name but a few.
Mark Dolan is based in London and available for conferences and other events in the UK and worldwide. Check his availability by contacting us today. Our Entertainment Coordinators will be happy to provide further details on this British presenter and compere and assist you in the booking process.
" He was absolutely brilliant we couldn't have asked for any better, just what we wanted. It was a great evening, big success. "

FREELANCER OF THE YEAR AWARDS
" Mark was a great choice, the audience had a great reaction and everyone was laughing. He's an absolute delight to work with and great fun! "

EUROMONEY PRIVATE BANKING AWARDS
" On stage Mark captured the Pimm's theme perfectly with a seamless and effortless comic flow throughout which extended off stage with his constant personal interaction embracing the entire occasion including all the guests, staff and crew "

PIMMS MY SUMMER PARTY CAMPAIGN WINNER'S EVENT
" Mark did a fantastic job - he was a great host and remained in control of the debate throughout, managing each speaker's allotted time and engaging with the audience when the debate was opened to the floor. "

SKY MOVIES BATMAN DEBATE