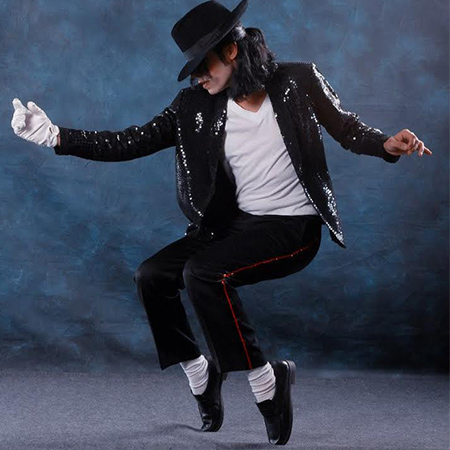 Michael Jackson Tribute Spain
Fabolous Michael Jackson impersonator is guaranteed to amaze the King of Pop fans with his uncanny resemblance to the superstar
Looking and sounding like Michael, this fantastic tribute artist has filled stadiums and theatres with his talent and powerful stage presence
Artist can also mix and mingle with your guests and interact with them in a number of ways including posing for photos
Ideal tribute show for a variety of events including themed parties, festivals, theatres, concerts, corporate parties, and more!
This Michael Jackson Tribute is available for bookings in Spain and worldwide
Michael Jackson Tribute Spain PHOTOS
The only Michael Jackson impersonator who sings live in Spain, this talented tribute artist not only bears an uncanny resemblance to the late superstar but he also shares a piece of his talent.
A king of pop show that features a replica of Michael's stage design and iconic costumes, this tribute act also includes some of his most famous hits and choreographies. A live tribute artist that not only looks but also sounds like the Motown star, our Michael Jackson lookalike has filled stadiums and theatres all across Spain. 
Offering shows as a solo performer and also along with a Lady Gaga impersonator, this Michael Jackson lookalike regularly joins forces with this and other tribute artists and musicians to deliver unique shows. Bringing two of the most representative figures of pop music together on one stage, our artists' Jackson Vs. Gaga show is a favourite among pop music lovers!
Not only an in-demand tribute show but also a fantastic mix and mingle act, this Michael Jackson impersonator can also offer walkabout entertainment. As soon as his concert is over, he can jump off stage and interact with your guests, pose for photos, sign autographs, etc.
Suitable for a variety of celebrations, this Michael Jackson Tribute is the perfect show for events such as themed parties, festivals, theatres, concerts, corporate parties, nightclubs and more! Whatever the occasion, our sensational Michael Jackson lookalike is guaranteed to leave even the most demanding audiences in awe.
Scarlett Entertainment offers a broad range of live tribute artists for events in Spain and all over the world. 
If you're interested in booking this Michael Jackson Tribute, then contact us today and make an enquiry. Our in-house team of Entertainment Experts will be delighted to answer all the questions you may have about this king of pop show and assist you with your booking.