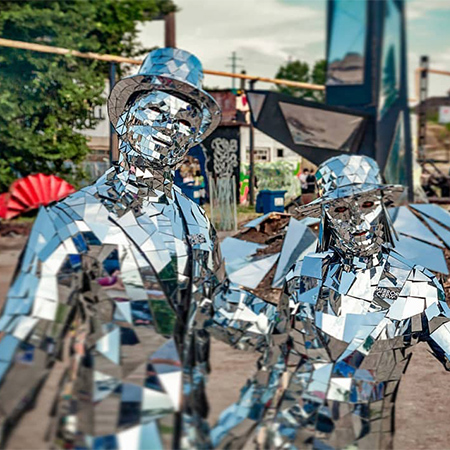 Mirror Walkabout Acts
Dazzling and sparkly interactive mirror people make heads turn wherever they go
Perfect meet and greet act for a variety of events, loved by people of all ages
Mirror walkabout characters offer a stunning photo opportunity and makes your event stand out
Perfect for corporate and themed events, festivals, trade shows, product and brand launches, festivals, Halloween parties, nightclubs, etc.
These Mirror Walkabout Acts are based in Serbia and available for worldwide bookings
Mirror Walkabout Acts PHOTOS
Are you looking for interactive walkabout characters that make your event stand out? Then look no further! Dazzling and sparkly, these Mirror Walkabout Acts always make heads turn and catch the attention of everyone they encounter!
These interactive walkabout characters offer a stunning photo opportunity. Spellbound by their unique and shiny costumes, guests at your event won't resist stopping by and asking for a picture. Available in different lineups, these performers can be booked individually, as a male-female duo and in different groups.
Loved by people of all ages, our mirror walkabout characters catch the eye of both children and adults alike. Stationed at the entrance of your venue, this meet and greet act can offer your guests a warm welcome and put smiles on everyone's face!
A popular meet and greet act for a variety of events, our interactive mirror people are the perfect entertainment choice for corporate and themed events, festivals, trade shows, product and brand launches, festivals, and many more! Whatever the occasion, our mix and mingle performers are guaranteed to get people talking!
Also suitable for nightclubs and Halloween parties, our interactive mirror people will put their skull masks on for dark and spooky nights. Mirror skulls are big favourites for themed parties and evening parties and as the masks can include eerie red eyes that cause greater visual impact in the dark!
Top Tip:
Mirror stilt walkers also available! Characters available in both golden and silver costumes.
Scarlett Entertainment offers a wide range of interactive walkabout characters in Belgrade, Serbia and worldwide.
If you're interested in booking these Mirror Walkabout Acts, then don't hesitate to get in touch with us today. Our in-house team of Entertainment Experts will be delighted to answer all the questions you may have about our interactive mirror people and assist you with your booking.