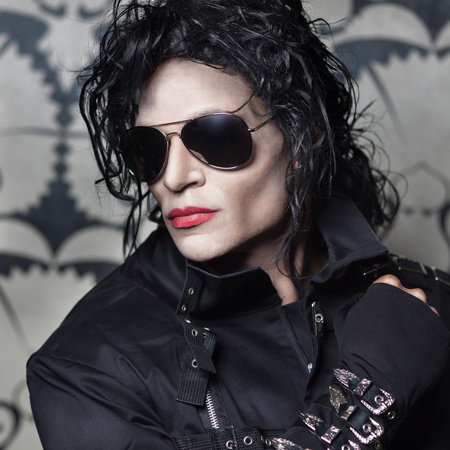 MJ Impersonator
One of the most sort-after impersonators, he sings 100% LIVE!
Gained attention and critical acclaim across Australia
Synchronized step moves in conjunction with that of The King of Pop
Previous clients include Sony, Nestle, Crown, British Airways...
Based in Melbourne and available to perform at events worldwide
Our artist has been perfecting his impersonation of iconic superstar Michael Jackson since the tender age of seven, turning his adoration of one of the world's most famous entertainers into a burgeoning career path that is and continues to gain attention and critical acclaim across the country.  
The MJ Impersonator is a multi-talented and multi-skilled performer, having perfected his dancing chops with Melbourne's 'Dirty Laundry' from 2004 to 2011, where he was able to showcase his vast array of talents on and off stage, ranging from song writing, production and sequencing. His collaborative efforts with this troupe lead them to the Top 20 on The Australian Dance ARIA charts, with 6 of their pop hits, penned by Harrington-Olsen.
Falling in love with Michael Jackson's 'Beat It' music video from a young boy, he tried to imitate Michael Jackson in every way – from his infamous Moonwalk step to his captivating vocals and spellbinding dance moves, as he says, "Michael was really something special to me. He was a magician, he was a space man, and at times he was an alien. He was always reinventing himself and taking things to different heights.
He pushed boundaries on what could and couldn't be done mentally, physically and spiritually – almost God –like in stature". It is with that reference to the icon that our Michael Jackson impersonator pushes his own performance boundaries and dares to give his audience more than just a mere impersonation but to a Michael Jackson tribute show and experience.
As a choreographer, the MJ Impersonator has created quite an impressive list of corporate and celebrity clients which include; Kylie & Danni Minogue, Tina Arena, Deni Hines, Sophie Monk, Toni Pearen, Jimmy Barnes, Jessica Mauboy, Macy Gray , BMW, British Airways, The Edelstein's Wedding Winter Wonderland Show and a myriad of others.
As a professional actor he has appeared in a diverse range of television programs including: Raw FM, Channel 31, Full Frontal, The Feds and Neighbours, with TV credits such as: Dancing with the Stars, Hey Hey Its Saturday, Carols By Candlelight and The Good Friday Appeal and film credit in the Australian shot feature film Queen of the Damned. 
To watch the Michael Jackson Tribute Show is a sight to behold. His precision in movement and performance is second to none, his energy and perfection of everything from music choice to synchronized step moves in conjunction with that of The King of Pop himself.
Contact us today to book the Michael Jackson Impersonator for your event and let your guests expereince the mightiness of the Michael Jackson tribute show.
Eve
Crown
Sony
and many more...
Nestle
British Airways
Lotus
Ozstaff