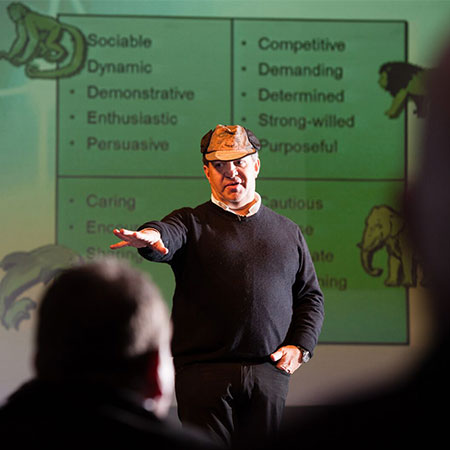 Motivational Speaker Nigel
Award-winning motivational speaker inspires people to believe in themselves and leaders to learn that winning means leading hearts as well as mind
Only speaker in Europe to have been awarded prestigious Speaker of the Year from The Academy For Chief Executives
Company turnaround specialist recognised with the Professional Speaking Award of Excellence
Previous clients include renowned brands such as BT, Pepsi-Cola, GSK, Siemens, HSBC Bank, etc.
Nigel Risner is based in the UK and available for events worldwide
The only motivational speaker in Europe to have been awarded Speaker of the Year from The Academy For Chief Executives, Vistage, Footdown and The Executive Committee, Nigel Risner is a respected author, television presenter and a prolific leadership keynote speaker.
Nigel's workshops and keynote speeches are results-oriented. This multi award-winning motivational speaker challenges his listeners to expand their horizons, embrace the opportunities that await them and dare to dream of achievements which seemed impossible before.
Nigel speaks at over 150 conferences a year, in over 18 different countries. Among his recent clients, he can name some renowned brands such as BT, BSKYB, Pfizer, Pepsi-Cola, GSK, Siemens, HSBC Bank, The Academy for Chief Executives, and many more. Some of Nigel's previous clients assure this award-winning motivational speaker that touches and transforms people's lives.
He is one of only six speakers in the UK to have been awarded the highly prestigious PSAE (Professional Speaking Award of Excellence) from the Professional Speakers Association. He believes that it's time for inspirational leaders again as most successful leaders know that winning means leading hearts as well as mind.
 Speaker topics include:
Communication in the Workplace
Leadership
How to create IMPACT for you and your team
Change
Company Turnaround
Teamwork
Peak Performance
Sales
Motivation
Many businesses have trusted this company turnaround specialist to motivate their working teams. Our motivational host and presenter has experience handling multinational audiences and connect quickly with them through his sense of humour and enthusiasm. A leadership keynote speaker that always leaves life-changing thoughts, he inspire professionals to believe in themselves.
If you're interested in booking our Motivational Speaker Nigel for your event, then contact us today and make an enquiry. Our dedicated team will be more than happy to provide further details on this leadership keynote speaker and assist you in the booking process.