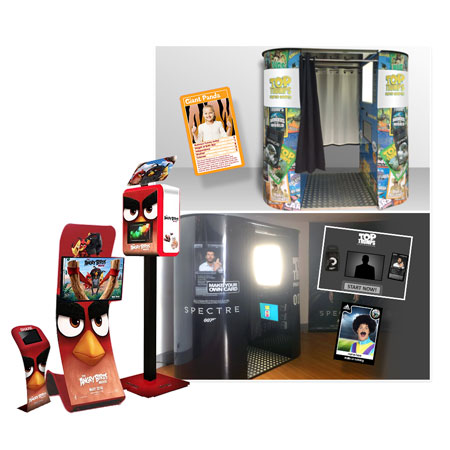 Multimedia Photo Booth
Incredible photo booth with multiple options and customisations
From branded and luxury booths to flipbooks and animated GIFs
Unique and fun experiences for all audience types
Includes various unique physical and digital output options
Based in the UK and available for international events
Multimedia Photo Booth PHOTOS
This utterly incredible multimedia photo booth takes the concept of photo booths to a whole new level. With so many totally amazing options available, you probably won't want to book any other photobooth for your event. 
Almost every single aspect of the multimedia photo booth is customisable and brandable. All of the units can be fully branded as well as the photos and the touchscreen. Backdrops, props and everything else can be customised to suit taste of event themes. 
If you're looking for an interesting, fun and crowd pleasing photo booth for you event, look no further. As well as standard set ups with fun props and unlimited prints they also offer amazing green screen backdrops to create amazing backgrounds for your photos or flower walls and customised frames. All off the options can include a variety printing services on site
Our multimedia photo booth offers even more for a unique photo experience that your guests will not forget or to use as a powerful promotional media tool. 
Mirror booth - Elegant and sophisticated Photobooth with Hollywood-style lighting all around, just like a dressing room mirror, and these provide delicate and flattering lighting to the pictures.
Luxury booth -  fully customisable, enclosed, oval shaped booth that includes multi-touch screen, DSLR cameras and live printing
Tower booth - open style booth that creates a socially interactive experience for the larger groups. 
Flipbooks and GIFs - created by recording a short video of your guests in the photo booth or against a backdrop. In just a couple of minutes the images are transformed into a 40 page book that when flicked through plays the video. The GIFs are the digital version.
Cinemagraph - Creates a dynamic, contemporary 'alive' image by creating a small area of movement within a still image. The finished result can be produced as a video or GIF
Light Painting - Guests draw in mid-air to create a unique, one of a kind graphic artistic photo. The final product can be printed or instantly uploaded to social media. 
VR, AR and Live View - Insert guests into a Virtual Reality environment that is both 3D and 360 then use the VR headsets for 3D viewing or share instantly to facebook as a 360 experience. 
Slow Motion - They record a 5 second video clip of your guests dancing, acting, jumping or throwing confetti and instantly transform it into an ultra cool, ultra slow motion video, easily uploaded to social media or email.
Social Media Terminal - Away from the photo booth guests can instantly share their photos to facebook, twitter, email and text from the touchscreen terminals. 
Sticker Prints - Turn images into stickers and stick them anywhere you want!  Images are printed directly onto sticker paper sized at 6×2 strips or 6×4 postcards
Hashtag Printing - Enables photos to be printed directly from Instagram & Twitter live at your event.  Guests simply take or find your photo, share with the given #Hashtag and the print station will do the rest. 
To book our multimedia photo booth for your event and give your guests or clients a totally unique photo experience, speak to our specialists at Scarlett Entertainment and they will be more than happy to help you with any of the photo booth options