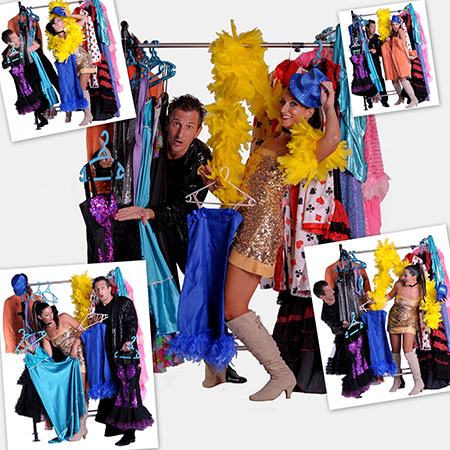 Quick Change Act Greece
Fast costume changes and incredible illusionist tricks that will put a smile on everyone's face
Quick-change artists can change clothes in under a second
Variety of funny sketches, magic, song and dance within every show
40 different costume changes performed right before your eyes
Based in Greece and available for worldwide bookings
Quick Change Act Greece PHOTOS
Ready to see magic happen in front of your eyes? This Quick Change Act will trick the eyes of viewers with incredible illusionist tricks that will leave them puzzled. This couple of escapologists will change into 40 different outfits during their show. Their fast costume changes will make audiences wondering how they can do it in the blink of an eye.
With many years in the entertainment industry, our quick-change artists have designed an illusion performance that will put a smile on the face of every spectator. Loved by children and adults alike, our Quick Act Change is guaranteed to impress people of all ages.
These talented stage performers can carry out fast costume changes in only one second! And they will not only impress everybody performing incredible illusionist tricks but they will also dance, carry out comedy scenes and even sing!  
They can perform shows that vary from six up to 45 minutes, time during which they will encourage audience's participation so spectators can feel as part of the show. Our quick-change artists usually invite people from the audience to join them on stage to 'help' them with some of their fast costume changes and some of their incredible illusionist tricks.
Ideal entertainment option for gala dinners, award ceremonies, cruise ships and hotels' shows, this Quick Act Change is guaranteed to leave audiences yearning for more. Bringing together all their expertise, our talented stage performers will delight everybody with their mind-blowing performance and also with their captivating and funny personalities. 
Whatever your event, their funny Quick Change Act is sure to leave a lasting impression. Booking a magic and illusion show has never been so easy!
If you're looking for a jaw-dropping fun show, this is definitely the show for you. Make your enquiry today by contacting our in-house team of entertainment specialists.