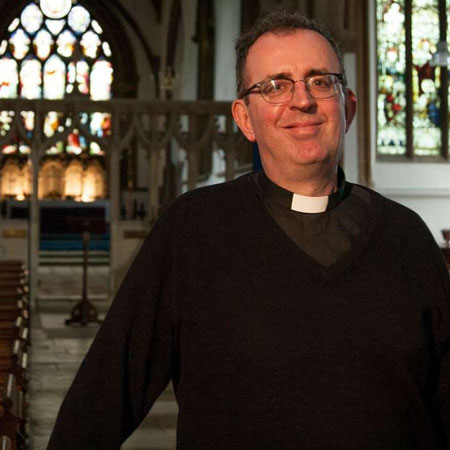 Reverend Richard Coles
Often refered to as Britain's most famous vicar
Former 80's Pop Star with UK top single
Co-Presenter of BBC Radio 4's Saturday Live
Honorary Chancellor of the University of Northampton
Celebrity panellist on shows such as QI , Would I Lie To You? and Have I Got News For You
The Reverend Richard Coles is a Church of England priest in the quintessentially English village of Finedon, Northamptonshire, where two of his ancestors were Vicars in the seventeenth century. However, in complete contrast, more than a quarter of a century ago Richard was the instrumentalist half of pop band The Communards, together with Jimmy Somerville.
During the 1980s The Communards had three UK Top 10 hits, including Never Can Say Goodbye and the biggest-selling single of 1986, Don't Leave Me This Way. This, therefore, affords him the unique position as being the world's only Vicar to have had a number one hit record.
Richard is co-presenter of BBC Radio 4's Saturday Live and also a regular contributor to 'Pause for Thought' on the Radio 2 Chris Evans Breakfast Show. He is a frequent guest panelist on shows such as Have I Got News For You, Would I Lie To You? and QI. Often described as Britain's most famous vicar, Richard was the inspiration for the main character in the BBC hit comedy Rev, a programme for which he also served as consultant. In 2017, Richard was a contestant on the BBC's BAFTA winning prime-time show Strictly Come Dancing.
Richard Coles grew up in Northamptonshire and attended a minor public school where he was a chorister and, to his horror, realised he was gay. As a young adult he subsequently moved to London to work as a session musician in theatre. In 1983 he joined pop group Bronski Beat as a sax player where he met Jimmy Somerville. The following year, Jimmy and Richard left to form The Communards.
Success came fast and they had the UK's biggest-selling single of 1986, but Richard was not at ease with the sudden fame. He was the gawky, bespectacled, musically trained geek who physically towered over the extrovert Somerville, but was otherwise lost in his friend's shadow. Friction grew, and it was against this backdrop of drug-fuelled arguments that Richard invented a deception which ultimately drove him away from his career in pop music and towards a more fulfilling vocation to God.
In 1990, after attending a mass at St Alban's, Richard Coles was suddenly inspired with a new found faith. He took a theology degree at King's College, London, before returning to Northamptonshire where he began to seriously consider taking holy orders. After ten years as a Roman Catholic he reverted to Anglicanism, and in 2005 Richard was ordained into the Anglican priesthood and now lives with his civil partner David, also a priest, in their vicarage which is gradually being destroyed by their four dachshunds.
With a particular interest in housing communities, Richard serves as a board member of Wellingborough Homes, providing social and affordable housing in the borough where he lives, and in 2017 became honorary Chancellor of the University of Northampton.
Reverend Richard Coles' work as a broadcaster, priest and formative years in the music industry makes him a delightfully entertaining, articulate and very funny after dinner speaker; recalling many extraordinary and humorous anecdotes of his journey from pop-star to priest; he is also regularly in-demand to host corporate and society award dinners.
Reverend Richard Coles' books include: Fathomless Riches and Bringing in the Sheaves.
After Dinner Speaking - "From Pop Star To Parson"
Having addressed audiences as diverse as local Government Ministers in Marlow and the Independent Schools' Bursars Association to international travel agents in Abu Dhabi and the British Medical Association, Richard has refined a highly original, humorous and captivating after dinner speech that will appeal to all audiences.
There aren't many Church of England priests that can claim to having had a British Number 1 hit single... in fact, to-date, the Reverend Richard Coles is the one and only, as part of highly successful pop duo The Communards.
In his popular after dinner speech, From Pop Star To Parson, Richard Coles tells a story that is as real as it is unlikely. He connects the euphoria and mayhem of being 'Top of The Pops' in the 80s — which resonates with audiences of that era — to his present circumstances as Church of England priest, radio broadcaster and television show panelist and enables him to reach a wide audience, answering amongst many burning questions, "How do you go from pop star to priest? And why?"
Conference & Keynote Speaking:
As a high-profile openly gay priest, Richard Coles is increasingly asked to address audiences around the themes of:
LGBT
Diversity
Inclusion
Trust 
Ethics 
His talk on Trust and Ethics means he bring a unique and interesting perspective as a member of the clergy. 
He also has a particular interest in housing and building communities — he is on the board of a housing association – Wellingborough Homes – and has spoken to several national conferences on this theme.
In addition to after dinner and conference speaking, the Reverend Richard Coles is also hugely popular and in-demand as a host for award ceremonies; from Third Sector awards for charities to the likes of the British Parking Awards; British Damage Management Association Awards; British Medical Association Research Grant Awards Dinner; Association of Car Fleet Operators; IT Service Management Forum Awards; Ophthalmology Awards; Investor Relations Society Best Practice Awards; The Metal Packaging Manufacturers Awards; Supersavers Bestseller Awards; Test Valley Business Awards & Dinner; Croydon College Awards and Planning Awards to name but an eclectic few.
To find out more about how to book contact our team of Entertainment Experts.
" He didn't just read a script, he delivered what we asked for and more - an event manager's dream "

Lloyd's List
" We were delighted with Richard Coles' presentation, it was amusing, well delivered and appropriate for the day. We also appreciated the efforts he made to network with our guests before his presentation "

AXA Corporate Solutions Assurance
" Reverend Richard Coles, as you would expect, produced an excellent start to our morning session at conference and it quickly became apparent how popular his BBC radio programme is amongst our delegates. His friendly, matter of fact approach was appreciated by everyone. It was a pleasure to host him and I would appreciate your conveying to him my best wishes "

Rotary International
" May I simply say an enormous thank you for taking the time to come and speak to us at our conference dinner in the Celtic Manor Resort. We certainly appreciated your most amusing speech, which undoubtedly contributed to an outstanding dinner for our members and guests. Your after-dinner speech undoubtedly helped contribute to this. "

Independent Schools' Bursars Association