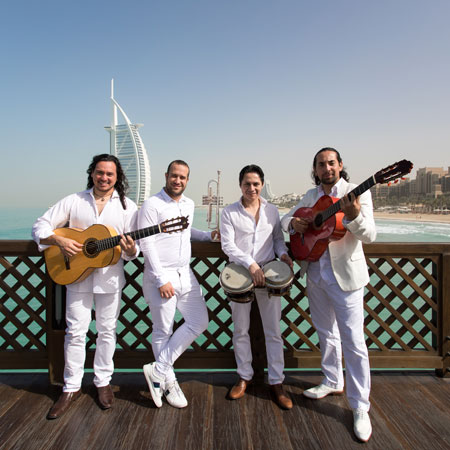 Roaming Flamenco Band Dubai
Roaming flamenco quartet will entertain and amuse as they perform amongst guests
Set a sensational Spanish-flavoured tone to your event with our talented walkaround musicians
Audiences will love our Spanish-style ensemble's heartfelt, fiery and passionate performances!
With years of combined experience, our Roaming Flamenco Band Dubai deliver a talented and professional performance
Based in Dubai, our live music entertainment musicians are available for bookings across the UAE
Roaming Flamenco Band Dubai PHOTOS
Hire our lively roaming flamenco quartet of talented musicians for a fun and dynamic performance that will bring a sensational Spanish flavour to your next event!
Audiences will be enamoured with our Spanish-style ensemble's flamenco talent and flair, performed with heartfelt, fiery passion and visible emotion as they roam among tables or entertain standing guests.
Listen as our talented walkaround musicians skilfully combine the harmonious sounds of guitars, trumpet, percussion and vocals to create Spanish-flavoured flamenco rhythms and melodies.
With huge versatility, this Spanish-style ensemble has the ability to provide a range of performances suited to different moods and occasions. From a gentle serenading of background classical guitar and soft vocals, to lively instrumental music for a fiesta guests won't be able to resist dancing the night away!
These talented walkabout musicians are experts at creating welcoming engagement with audiences as they stroll among guests. Making friendly eye contact and singing directly to groups of guests in turn, this fantastically talented flamenco quartet set a sociable, relaxed and jovial atmosphere, radiating fun and exuberance.
Top Tip: 
Our Spanish-style ensemble can also perform a stage set to act as an exciting visual centre point for your event, or set a focal point from which to create a dance floor.
Providing an atmospheric background, our professional Roaming Flamenco Band Dubai is the perfect choice for bringing the fun and heat of a Spanish fiesta to drinks receptions, private parties, festivals, corporate functions and many other special occasions.
Browse our fantastic range of flamenco musicians, walkaround musicians and live music entertainment for recreating a fun and fiery Spanish vibe. 
To book this scintillating act and take your event to the next level, get in contact with our specialist team who will talk you through the booking process.
Bamboleo
Djobí Djobá
Soy (Gipsy Kings)
A Mi Manera
Volare
Bem Bem María
Báilame
Pidamelá (Gipsy Kings)
Vamos A Bailar
Caminando Por La Calle
De Granada a Casablanca
Kalikeño (Ketama)
Vengo De Borrachera (Ketama)
Acaba De Nacer (Cara tan bonita- Ketama)
Vente Pa Madrid (Ketama)
El Toro y La Luna
Bésame Mucho
Kilómetros (Sin Bandera)
Algo Contigo (Chico Novarro)
La Historia De Un Amor
Un Amor