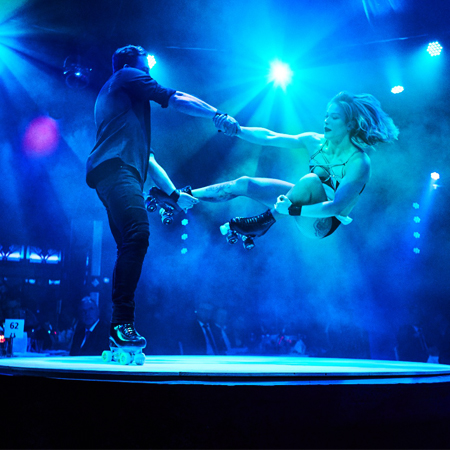 Rollerskating Duo Amsterdam
Get ready to experience a rollerskating act like no other! Expect romance, music and danger
Incorporating singing, tricks and breakneck spins, our rollerskating performers will have guests on the edges of their seats
Performing on a 2 x 2 metre podium, our dancers on rollerskates can entertain in a wide variety of venues
Our skating dancers have performed for the Edinburgh Festival, International Motor Show and Circo De Los Horres
Book Rollerskating Duo for events in Amsterdam and internationally
Rollerskating Duo Amsterdam PHOTOS
Leading booking agency Scarlett Entertainment is a global entertainment provider, working with big name clients and artist to create the most exciting, inspirational events in the world. With a dedicated team of professional sales coordinators, we can work on a personal basis with you to find the ultimate entertainment option for your special occasion.
Our Rollerskating Duo Amsterdam are a thrilling stunt rollerskating act featuring two of the best rollerskating performers in the world. Bringing music, romance and danger into their superb choreography, our dancers on rollerskates provide spellbinding event entertainment. Loved by young and old alike, these skating dancers are guaranteed to captivate audiences.
A third generation rollerskating act, this duo features the son of a world famous rollerskating family. Performing alongside Stephanie, the beautiful daughter of an oil tycoon, these thrilling rollerskating performers are one of the most sought after skate acts in the world. 
The Routine:
Performing on a 2 x 2 metre podium, this show incorporates racy costumes, a dynamic soundtrack and lots of thrilling stunts. Unlike almost any other dancers on rollerskates, our talented performers not only provide visual entertainment, they also accompany their routines with live singing. Spinning around at breakneck speeds, you will be amazed by the acrobatic capabilities of both skating dancers. Performing amazing poses like Stephanie wrapping her legs round her male partner's neck, guests are certain to be gobsmacked when these artists take to the stage.
Having performed all over the world at amazing events like Thailand's International Motor Show, Spain's Circo De los Horres and Ediburgh Festival's  La Clique, our experienced rollerskating act know exactly how to captivate an audience. A unique entertainment act for corporate events, festivals and private parties, expect pumping adrenaline from Rollerskating Duo Amsterdam.
Speak to our team at Scarlett Entertainment to find out more about booking this act for your event.
Circo De los Horres Spain
La Clique (Edinburgh Festival) Edinburgh
The Box England
The Hole Madrid
Artistika Switzerland
International Motor Sow Thailand
Ronnie Tobert Gala The Netherlands
The Hole 2 Tour
Viva La Broadway Macau
Cabarae Hawaii