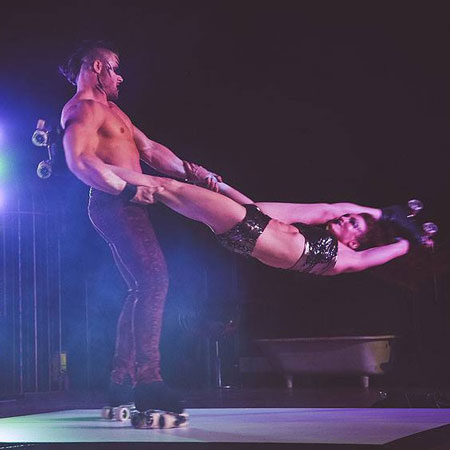 Rollerskating Duo Show
Jaw dropping roller skating act will amaze and enthral any audience
Roller skating duo spin and flip at incredible speeds in this dazzling, high octane act
Husband and wife acrobat duo perform a sensual, passionate performance that will have audiences hooked
Acclaimed roller skating duo show has wowed audiences all over the world at festivals, conventions, parties and events
Brilliant roller skating dance act available for performances worldwide
Bring a thrilling and high energy spectacle to your event with this incredible roller skating duo. Our roller skating duo show delivers an intense and jaw dropping display full of daring spins and tricks that will have audiences on the edge of their seats for the entire performance. Our acclaimed acrobat duo have performed all over the world and dazzled audiences with their skilful, suspenseful routine and passionate, fiery performances. This married couple perform a sensual and electrifying roller skating act brimming with sensual energy and overflowing with incredible skill and precision. Book our magnificent roller skating dance act for an unforgettable show that will leave guests breathless.
Our incredible roller skating duo are highly experienced and talented acrobats who perform a range of acts to amaze and entertain audiences. This roller skating dance show takes place on a small circular stage which our husband and wife team skate round at dizzying speeds, flipping and spinning each other in an intense and nail biting performance audiences won't be able to take their eyes off. This dynamic, high energy roller skating act is great for a wide variety of settings from cabaret shows and theatres to night clubs, and given the portable nature of the stage it can be performed anywhere, even outdoors.
Our acclaimed acrobat duo have amazed audiences all over the world with their stunning roller skating dance act, including performances at major events and festivals like WBEC West Convention and FitCon 2016 as well as performing with the Circus Juventas in 2015. Our roller skating duo are also highly talented aerial acrobats, capable of captivating any audience with their award winning aerial rope and trapeze acts (link).
Scarlett Entertainment features a fantastic selection of roller skating acts to amaze audiences worldwide.
Contact our team to book the incredible Rollerskating Duo Show or another top quality act.