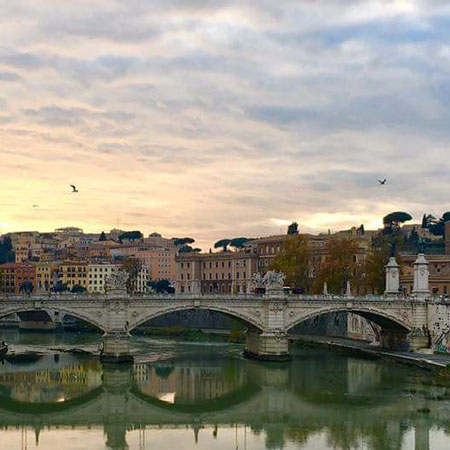 Rome River Tour
A Tiber River Dinner Cruise that boasts stunning scenery of Rome and delicious gourmet food
This Rome river boat dinner is the ultimate sightseeing tour that is perfect for corporate incentives, city breaks and private parties
2.5 hour boat tour includes a four course dinner, flute of prosecco, water and coffee
Departs from Castel Sant'Angelo and last two and a half hours
Based in Rome Italy
Book Rome river tour for spectacular scenery, good food, wine and excellent company, this Tiber River cruise will impress every guest. A Rome night cruise tour that offers a taste of Italian hospitality will create memories to last a lifetime. With a Rome river boat dinner, prosecco and Roman snacks this stunning river cruise is the ultimate VIP activity, perfect to offer as corporate incentives and reward schemes. 
A two and a half hour Rome river tour that glides along the Tiber River allows guests to take in the culture and experience Rome from another level. As you glide down the river you will enjoy a four course gourmet dinner that includes Italian starters, first course dish, second course, side dishes, desert, water and coffee. 
This Rome river tour travels from Tiberina Island to Castel Sant'Angelo and boasts incredible views of Rome at night whilst listening to live music.
Booking Tips! A Rome night cruise tour that offers a full flavour of Italian culture is guaranteed to impress your guests and create lasting memories.
Departs every Friday and Saturday from Castel Sant'Angelo at 20:30 and returns at 23:00
A Rome river tour on the Tiber River that includes; four course meal, prosecco, coffee and live music
Discover some parts of the city that are hidden 
Romantic riverboat tour can be booked for special occasions, city breaks, corporate incentives and more
Duration of tour lasts two and a half hours
To book this breath taking Tiber River dinner cruise Rome or for more information, contact our Entertainment Specialists.