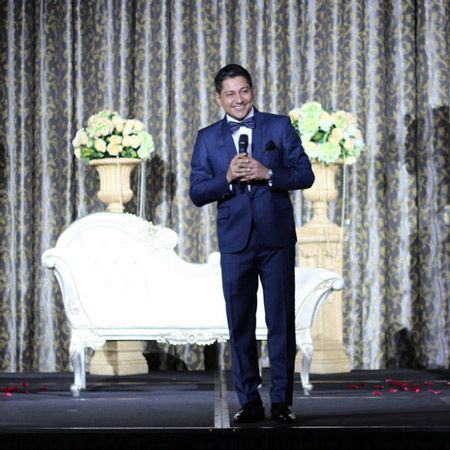 Singapore Event MC: Aaron
Singapore Event MC is fluent in English, Bahasa and Thai
Versatile, charismatic and entertaining for all types of events
An outstanding communicator and an expert in audience interaction
Perfect for multi-national audiences for corporate, government and family events
Based in Singapore and available for events worldwide
Singapore Event MC: Aaron PHOTOS
Our Singapore Event MC: Aaron has a very impressive 30 years of experience behind him. If you are looking for a wedding, family friendly or Corporate MC in Singapore, this is one of the very best. 
The Singapore Event MC delivers above-the-line presentations that empower your global events by inspiring positive energy and altruistic synergy that make lasting memorable impressions with audiences. His extensive stage leadership experience spans from team-building programs to milestone celebrations, conference presentations to corporate gala dinners that make him an all-rounded professional emcee for corporate annual general meeting retreats. 
The event host is an avid fan of personal development that quantifies his master certifications in Laughter Yoga, Neuro-Linguistic Psychology and the Enneagram which is a foundation as his underlining style in engaging international audiences, eloquently, stylishly and joyfully.
Our Singapore Event MC has covered a wide variety of events such as weddings, corporate gala dinners, exhibitions and trade shows, motivation and team-building events as well as conferences and conventions. The talented Singapore event host is also sought after by multi-national companies as well as government agencies for his expertise in the field of communication. A true master of all ceremonies, he continues to engage audiences from all over the Asia Pacific Region and is a sough-after corporate MC in Singapore. 
Driven by an inherent passion to create the perfect wedding experience, it is no wonder The Association of Bridal Consultants Singapore recognises him for his event hosting abilities. The event host's primary commitment is to support the community at large with meticulous event planning and hosting options to ensure that their expectations are more than fulfilled.
Speak to our team at Scarlett Entertainment to book the Singapore Event MC.
" His energy, enthusiasm, humour and wit created an open and festive party. He was able to connect with a diverse audience in a manner that was a blend of Kathy Griffith + Anderson Cooper, Ricky Gervais, and Bruno Mars all rolled into one...Singapore Style! I would highly recommend Aaron as a world class party host and emcee. Go Aaron go! "

Mr Watt Ling, General Manager, Teleflex Medical
" A captivating and entertaining trainer. Aaron was able to facilitate the team building event effectively by always engaging the team to achieve measurable results and generate commitment. He was also able to energise his audience with motivation and humour. Aaron indeed brought the various departments together as a team. We are elated to have had Aaron at our maiden team building event. "

Chairperson, Stephen McLaren Consultant
" As an emcee, you have been the bridge for the audience and the "stars". You are the grease that lubricated the flow of the event. Your good attitude was contagious! You infected the crowd with it! You kept your cool and got on with the programme. There you have it! "

Madam Elizabeth Nadan, SAF
" Hi Aaron, Just want to thank you for your effort at COMEX Show 2011. My team and I were very pleased with the BRAVIA sales result. And I think you played a pivotal role in achieving this number. Appreciate your proactive approach in promoting SONY's brand and product. "

Steven See, Marketing Manager APAC SONY
" Fantastic emcee and entertainer. Thank you for your help in making our Patrician Society such a success by keeping us entertained with your witty humour. You're the Best!! "

Alphonso D'Conceicao, Director of Rooms Royal Plaza on Scotts Hotel