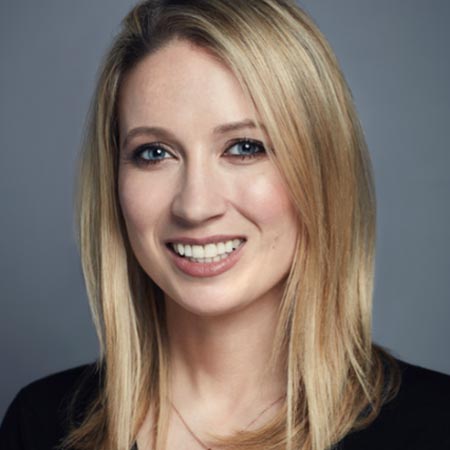 Space Speaker Sarah Cruddas
STEM (science technology, engineering and mathematics) ambassador since 2009
A space journalist and broadcaster who has worked alongside Space Diver Felix Baumgartner, British Astronaut Tim Peake and Moon-walker Buzz Aldrin
Science Expert and Children's Author
Space Speaker Sarah Cruddas has worked in Silicon Valley with NASA, Virgin Galactic and the Space Foundation
Based in the UK and available for worldwide bookings
Space Speaker Sarah Cruddas PHOTOS
Space Speaker Sarah Cruddas is a journalist, broadcaster and children's author with an academic background in astrophysics. On television she can be seen on Sky News covering Space News, as well as appearances on the BBC, ITV, Channel 5 News, Channel 4 News as a guest reporter, as well as an expert on shows on the Discovery Channel and National Geographic.
On radio Sarah lends her voice as a science expert across BBC radio and has presented and reported for BBC Radio 4. She also writes about space for various publications including BBC News, The Sunday Times, BBC Focus, BBC Futures, New Scientist, CNN and The Royal Aeronautical Society. She is currently writing and presenting a documentary series on space exploration.
Sarah also works as a consultant for space and new technology companies in the UK and USA. Recent credits have included working with Flirtey the first company fly FAA approved drone test in the USA and Haydale a graphene solutions provider. This experience puts Sarah in the unique position with an excellent understanding of not only science and technology, but how business is translating these ideas into reality.
Sarah Cruddas has extensive experience as an events host and after dinner speaker in the UK, Europe and America. Recent credits include working in the Silicon Valley with NASA, Virgin Galactic and the Space Foundation looking at how business is driving forward space exploration. She has also worked with Red Bull Stratus hosting live shows with Space Diver Felix Baumgartner as well as hosting live shows with British Astronaut Tim Peake and Moon-walker Buzz Aldrin.
Sarah's special interests include how business can drive forward science and innovation. Other clients have included The European Union, Samsung, Google, The Commercial Graphene Show, AON and RAL Space. She has also worked extensively with schools and universities encouraging women into science technology and away from science, Sarah has a passion for travel and is an experienced foreign reporter. Credits include reporting from Rwanda, Moldova, Transnistria, Tibet, China, North Korea, Australia and various US and Western Europe locations. 
She works with and supports the charities Hope and Homes for Children and Bobby Charlton's personal charity Find a Better Way. She is interested in broadcast, corporate presenting and outreach work in space science, technology and engineering. Sarah Cruddas is a highly sought-after corporate presenter, events host and a captivating after dinner speaker. She has also been a STEM (science technology, engineering and mathematics) ambassador since 2009, encouraging children to show interest in science and engineering.
Speaker Topics:
Keynote & After Dinner Speaking - Sarah Cruddas is able to talk in-depth, confidently and with a great deal of hands-on experience about a range of science, engineering and technology subjects. Her specialist areas include:
•    Astronomy
•    Space science and technology
•    Science and the developing world
•    Communicating and reporting on science
•    Engineering and technology and how science is shaping our world. 
Examples Sarah is able to draw on from her direct experience include all past and present space missions, including space in developing regions a China and Africa and the commercial space industry. Additional examples include work she has done with Sir Bobby Charlton into improving science behind clearing landmines. As well as examples about material science development and how science and technology is shaping medical advances.
Educational Talks:
Sarah Cruddas is a best selling Children's factual author, writing books about space published by Dorling Kinderlsey and has extensive experience working with schools and the education sector, from Key Stage 1 to sixth form. She is especially passionate about talking with girls for developing careers in science, engineering and technology, under the STEM umbrella.
Contents for talks with children include astronomy, space, weather, material science, technology and engineering. Sarah also presents careers talks specific to the sciences and talks on how science shapes our world and the importance of science and engineering. Sarah is able to talk with children about the work she has undertaken reporting abroad and the important role science plays in the developing world - from countries such as Tibet, North Korea, China, Moldova, Rwanda and topics such as farming, climate change, landmine clearing and children in institutional care.
Conference Facilitating & Presenting:
Sarah Cruddas possesses a wide range of conference facilitating experiences. Examples include business events with a science and technology focus, awards evenings, science festivals and educational events. Conference facilitating has including live interviewing guests on stage and hosting discussions and debates.
Specialist areas included; science, technology, engineering, weather, climate and education. Additional topics include travel, foreign reporting and overseas charity work.
To book Space Speaker Sarah Cruddas or for more information, contact our Entertainment Specialists. 
" It was a pleasure working with Sarah Cruddas to introduce and moderate a discussion with keynote Buzz Aldrin at the inaugural 'me Convention', a new collaboration between SXSW and Mercedes-Benz. Sarah was very responsive and decisive which was great given our short timeline. She was organised and communicative throughout the process, which made all the preparations go quite smoothly. On site, she was able to direct the conversation appropriately and engage the audience fluidly, and so we look forward to working with her on future events! "

Morgan Catalina - Producer, me Convention
" Sarah Cruddas was a real inspiration for the students she spoke to – bringing to vivid life a subject that for many is distant and sometimes hard to relate to "

Simon Pride - Harper Adams
" Sarah Cruddas has an excellent understanding of the UK space industry, she has great interpersonal skills in a way that easily relates to the public and to space professionals, and works hard to promote the success of UK science in a way that is easily acceptable across the media. "

Prof. Richard Holdaway CBE - Former Director of RAL Space
" Sarah's wit, charm and dedication towards the grassroots community of space entrepreneurs are exactly the qualities we seek to attract to Disrupt Space. She is already seen as leader in our community. Sarah helped our team in several ways from serving as a moderator for the 2016 Disrupt Space Summit highlight panel to advising the founding team on various topics. Her dedication towards her work is exemplary and we look forward to an ongoing relationship "

Philippe Cyr - Co-Founder and Managing Director, Disrupt Space
" It was a delight to work with Sarah Cruddas; enthusiastic from the start, terrifically knowledgeable about space science and professional to the end. It was a great night "

Simon Gage - Director, Edinburgh International Science Festival
" I wanted to say a massive thanks for your input into Red Bull Stratos and you did a great job. The Q&A went really well and I know the guys all had a brilliant time at the event "

Jonny Townsley - Red Bull
" The event went really well last week. Regarding Sarah Cruddas' involvement I simply cannot speak highly enough of her contribution. She made an excellent, speaker, moderator, chair and all round conference superstar. It was a genuine pleasure to work with her and would happily do so again in the future "

Andrew Kerry - Terrapin