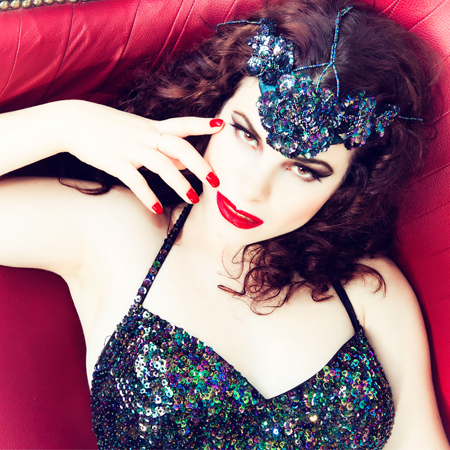 Spanish Burlesque Bombshell
Seductive and sophisticated dancer with sassy dance moves and sultry costumes
Routines include champagne showers and Von-Teese inspired martini glass show
Dubbed as the "Scintillating Secret of Barcelona"
Performed in Taboo, Roxy Club, Cotton Club and Palais Mascotte Las Vegas
Based in Barcelona, Spain and available to perform at events worldwide
Spanish Burlesque Bombshell VIDEOS
Spanish Burlesque Bombshell PHOTOS
Dubbed as the "Scintillating Secret of Barcelona", this Spanish Burlesque Bombshell is a true showstopper. Her shows are an exciting mix of sophistication and seduction, of sassy dance moves and sultry costumes. Popular in and out of Spain, this alluring burlesque dancer has performed extensively in Istanbul, Napoli, Palermo, Roma, Milan, Florence, Hamburg, Munich, Berlin, Geneva, and London.
She regularly receives invitations to perform in festivals in an around Spain - a testament to her popularity and appeal to the burlesque community. She has performed at the International Burlesque Festival in London and Italy. She has also become the favourite national burlesque performer for the Taboo Burlesque Nights in Barcelona.
She has also graced a number of clubs and theatres around the world. Some of her performance venues include the Roxy Club, Istanbul, Las Vegas Palais Mascotte, Pinky's Peep Show, Berlin, and the Queen Calavera, Hamburg. Known for her champagne showers and Ditta Von Teese-inspired Martini Glass shows, Spanish Burlesque Bombshell is hands down one of the best Burlesque performers in Europe.
Offering a large list of theme acts, our sensational burlesque performer has a comprehensive selection of outfits you can choose from: from a very Spanish matador suit or flamenco dress to a gorgeous Greek goddess costume, this sassy dancer list of acts can fit a variety of themes. On top of that, she also performs a Jessica Rabbit act that causes jaws to drop and it's very popular among the animated sex symbol fans.
Top Tip:
In a stunning alternative performance option, our burlesque bombshell becomes 'Jessica Rabbit' from the smash hit movie 'Who Framed Roger Rabbit' and creates a unique and cheeky show. This performance is perfect for cabaret and film themed events.
To find out more about how to book contact our team of Entertainment Experts.
Margarita Bonita
International Burlesque Festivals in London and Milan
Roxy Club (Istambul)
Queen Calavera (Hamburgo)
Pinky's Peepshow (Berlín)
La Faisite (Palermo)
Mogambo(Vigo)
Cabaret Berlín
Lucky Mojo Club
Barcelona Tattoo Expo
Monster
Boo Beach Club
Taboo Barcelona Burlesque Nights
Independent Loft (Florencia)
Velvet Voyaje (Munich)
Pepebianco (Nàpoles)
Las Vegas-Palais Mascotte (Ginebra)
Cotton Club (Casino de Perelada)
One Girona
Ohlala Vintage Ball Dress Party
Bibian Blue
IDEA ARTICLES RELATED TO Spanish Burlesque Bombshell