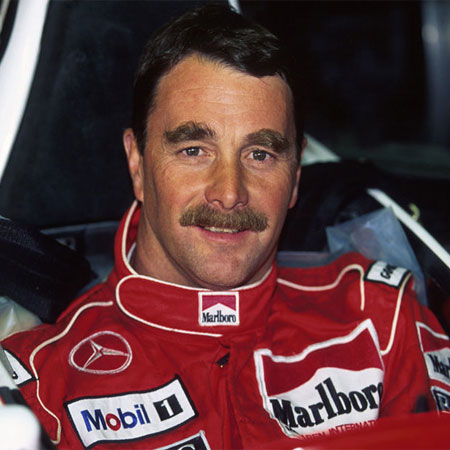 Speaker Nigel Mansell
One of the most talented F1 drivers of all time & champion of 1992
Twice named BBC Sports Personality of the year in 1986 & 1992
President of several charities including UK Youth & DREAM-A-WAY
Popular sports & motivational speaker in the corporate world
Based in Jersey & available for events worldwide
British Formula One racer and champion Nigel Mansell is one of the most talented British Formula One drivers of all time: he ranks third in the world in fastest laps, fourth in wins and fifth in poles. Highly ambitious, determined and driven, Nigel rose to the top of his game in just a few short years after joining Formula One in 1981 as part of the Lotus team.
He received his first podium after just five races and saw his first win at the European Grand Prix at Brands Hatch in 1985. In just 18 months his determination had won him 11 races, yet he lost two World Championships that he was poised to win. In the face of adversity, Nigel took things up a notch earning the nickname 'Il Leone' (The Lion) for his aggressiveness on the racetrack while driving for Ferrari in 1989. In 1992 he finally realised his dream and stood on the podium at the Formula 1 World Champion.
As reigning Formula 1 champion, Nigel moved to CART, becoming the first person to ever win the CART title in his debut season, and making him the only person to hold both titles simultaneously. After 187 hard races in 15 tumultuous seasons, and being awarded BBC Sports Personality of the Year twice (once in 1986 and again in 1992), 41-year-old Nigel retired from Formula 1.
Since retiring from Formula 1, Nigel has become president of two UK children's charities: UK Youth and DREAM-A-WAY. UK Youth is a charity that provides tools to build young people's self esteem, aptitude, skills and knowledge to evaluate workers strengths and identify areas of development, and DREAM-A-WAY sends local people from the South West with physical and learning difficulties on holidays and day trips. In 2012, he was appointed a CBE for services to children and young people.
Speaker Topics: 
Nigel is regularly booked both as an after-dinner speaker and motivational keynote speaker, where he pairs inspirational and practical key messages for self and team improvement with amusing anecdotes of his days in Formula 1. Success is a decision, not a gift How to thrive when faced with adversity Building a 'dream team' in business
Keywords:
Olympics > Athletics > Motivation > Change Management > Overcoming Adversity > Talent > Performance > Fear of Failure > Leadership > Teamwork > Accountability > Pro-active