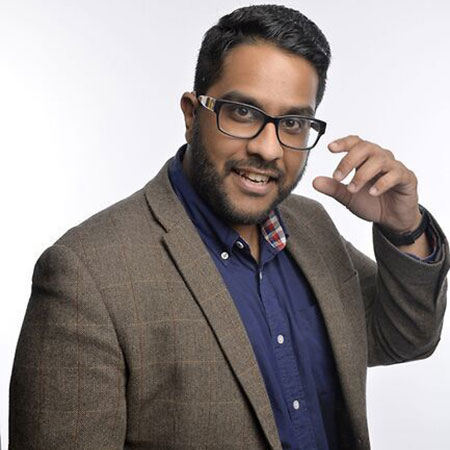 Stand Up Comedian Eshaan
Hilarious award-winning comedian is one of the most promising British stars in stand up comedy
Started his career as a communications specialist and writer creating pieces for prestigious newspapers like The Guardian
Has performed live at numerous events across the UK, Germany and Bangladesh and was asked to support Dane Baptiste on his UK tour
Excellent award ceremony host, MC and compere wins audiences over with his sharp sense of humour
London-based and available for bookings in the UK and around the world
An award-winning comedian with a meteoric career, Eshaan is one of the most promising British stars in stand up comedy.
Eshaan started his professional life as a communications expert and writer. Before engaging full time on stand up comedy, he had a career in local government public policy and was involved in private banking and corporate communications projects. A member of the UK Speechweiters Guild and Fellow of the RSA, he has written pieces for prestigious media and newspaper like The Guardian, The Observer New Review, The Times online, and The Huffington Post UK.
His professional adventure as a stand up median started in 2014 when he started to perform in front of live audiences. Eshaan started to win audiences over with his quick-witted sense of humour and hilarious monologues.
Eshaan won the Piccadilly Comedy Club New Comedian of the Year Award in 2016 and Eshaan and has reached the final of other prestigious competitions like So You Think You're Funny and Laughing Horse.
Our award-winning comedian has entertained audiences all across the UK and in countries like Germany and Bangladesh. In 2016, he was asked to support Dane Baptiste on his UK tour.
Some of his most outstanding live performances include include his shows at the Edinburgh Festival, where he kept spectators bursting out laughing with his genuine jokes and funny speeches.
A talented public speaker, he's an excellent award ceremony host, MC and compere. Eshaar knows how to quickly engage with audiences through his sharp sense of humour.
This sensational Stand Up Comedian can be booked as the following:
Comedian
Award ceremony host
MC and compere
Born and raised in East London, he is football fan and a Manchester United supporter. He has torn cricketing allegiances and has always failed the Tebbit test. On top of that, he has previously shown interest in dancing, with particular emphasis in Bollywood dance.
Contact our team of Entertainment Experts to book this exceptional stand up comedian as an event presenter and host.