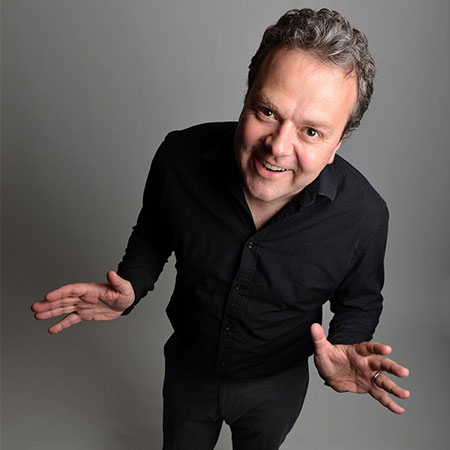 Stand Up Comedian Hal
One of the top stand up comedians in the UK has entertained live, TV and radio audiences all over the world
Hosts his own radio sitcom on Radio 4 and has made numerous TV appearances in the UK, the US, Australia and Canada
Three-times Chortle Award nominee comedian is also a highly accomplished actor and writer
Quick-witted and charming MC and award ceremony host keeps audiences entertained with funny monologues and genuine jokes
Hal is based in London and available for international bookings
A highly accomplished actor and writer, Hal is above all an outstanding Stand Up Comedian. Also a TV and radio presenter, he is one of the top comedians in the UK.
Hal trained at the Central School of Speech and Drama. His career as an actor include roles in various TV shows including 'Shakcleton' or Bramwell' and films like 'Mrs Dalloway' and 'The Madness of King George'. This highly accomplished actor had also roles in theatre before engaging full time in stand up comedy.
As a TV and radio presenter, he has participated in numerous TV shows including 'The John Bishop Show' (BBC1) and 'Live at the Apollo', (BBC1 and 2). Other TV appearances include 'Funny as Hell' in BBC America, 'The Melbourne Comedy Festival Gala' on Channel 10 Australia or 'The World Stands Up', broadcasted in the UK, the US and Australia.
Hal has his own radio sitcom on Radio 4, a project that he combines with other radio appearances on 'Britain versus the World', 'Loose Ends' or 'Act Your Age'. A three-time Chortle Award nominee, Hal has also been nominated for the prestigious Perrier Newcomer Awards.
Currently focused on his work as a live comedian and award ceremony host, this British MC and compere has toured across Canada performing live at the Just For Laughs Comedy shows. He has also entertained audiences in India, Bermuda, the Netherlands, Belgium, Qatar, Kuwait, China or Indonesia, to name a few. On top of that, Hal has made the British army burst with laughter in the Falkland Islands, Cyprus and Germany.
Quick-witted, eloquent and charming, this British MC and compere is guaranteed to keep audiences engaged with funny monologues, genuine jokes and his tasteful sense of humour.
This versatile comedian can be booked as:
Stand Up Comedian
Award ceremony host
MC and compere
To book Hal, contact our in-house team of Entertainment Experts today and make an enquiry. They will be happy to provide further details on this sensational stand up comedian and assist you in the booking process.