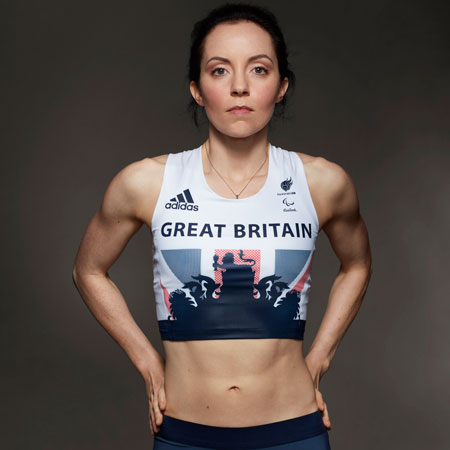 Stef Reid
Stef Reid is a five-time world record holder, double Paralympic medallist
Professional speaker, fashion model, lay preacher and first ever British amputee to model at London Fashion Week
The multiple medal winning Paralympian took part in the Rio and London Paralympic games
Previous clients include BT, BP and Sigma Aldrich
Based in the UK and available for international events
Five-time world record holder and Paralympic medallist Stef Reid is a track and field Paralympian who represents Great Britain in the 100m, 200m and Long Jump. Aside for her sporting abilities, she is an incredibly talented motivational speaker able to tackle a range of events. You can hire Stef Reid as an after dinner speaker or keynote speaker. She highly experienced in delivering talks in a variety of environments from boardrooms to Wembley Arena.
Paralympic medallist Stef Reid grew up in Toronto and competed in the 2008 Beijing Paralympics for Canada where she won a bronze medal in the women's T44 200m. After relocating she competed for Great Britain in 2010 and broke three World Records in the space of two months. Stef won a silver medal in the long jump at the London 2012 Paralympics and the 2016 Paralympics. 
Originally born in New Zealand an English mother and Scottish father, Stef Reid then grew up in Cananda, moved to Texas with her Canadian husband before settling down in the UK in 2010. Stef's talent and passion for sport were spotted early, and at 12 she was already dreaming of playing rugby on the world stage. unfortunately at 15, Stef was involved in a boating accident and suffered severe propeller lacerations. Her life was saved but her right foot was amputated. Her focus shifted from sports to  studies, and she graduated as valedictorian earning a full academic scholarship to Queen's University in Canada to study biochemistry. Upon graduation, Stef decided to put her plans of medical school aside and focus on her childhood dream of being a professional athlete. 
Away from sports, Stef made her modelling debut fronting Debenhams' Diversity Campaign, with the aim to challenge perceived norms of the fashion industry. Stef worked with inclusivity campaigner Caryn Franklin MBE. Following on from this, Stef was invited to join the illustrious 'Models of Diversity' group, with whom she modelled clothing at the 'Time for Change' catwalk, as well as at the Ideal Christmas Home Show.  She recently made history when she became the first ever British amputee to model at London Fashion Week.
Stef is an established motivational speaker who can talk about a diverse range of topics. She has been invited as a keynote speaker to numerous events for the likes of BT, BP and Sigma Aldrich. She's extremely comfortable in front of an audience, with a fascinating story to tell of her career and experiences so far. As well as a keynote speaker, model and athlete, Stef is currently completing a Masters in Nutrition, an area she hopes to work in once she's finished competing.
If you would like to hire Stef Reid as a motivational speaker for your event, contact us at Scarlett Entertainment.