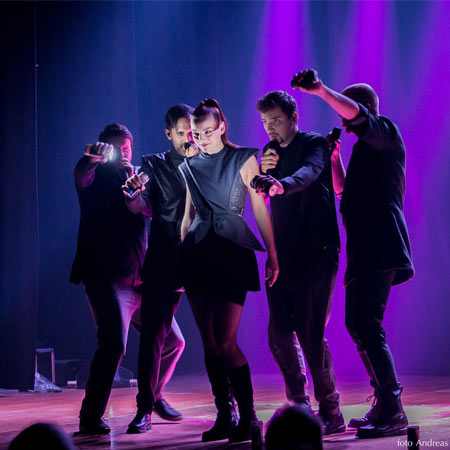 The Art of Vocal Music Berlin
Talented acapella group perform amazing vocal arrangements
Sensational acapella musicians deliver an outstanding live performance that will turn heads
Wonderful vocal band offer a variety of songs and can learn arrangements specifically for your event.
Ideal cover performers for parties, ceremonies, receptions and lots more
Exceptional live music show available for booking across Germany and worldwide
The Art of Vocal Music Berlin VIDEOS
The Art of Vocal Music Berlin PHOTOS
Treat your guests to a wonderful sounding and skilled acapella group that is comprised of amazing acapella musicians! A sensational vocal band that will deliver a bespoke and dazzling live music show experience that will instantly turn heads and capture attention at your upcoming special event or social gathering with instant success. Our talented cover performers are unusual, surprising, and filled to the brim with undying passion for their live performance and music. Guests are bound to love our wonderful group of cover performers from start to finish. 
Seasoned and skilled acapella musicians, our wonderful vocal band features talented cover performers that come together from solo pasts, to form an amazing and delightful acapella group that transforms into a beautiful vocal and vibrant organism as they perform as one. Our straight forward live music show is filled with emotion and heart, and displays beauty and perfection with ease as our acapella musicians create a truly uplifting experience that kindles within your audience, as they are taken aback by our amazing vocal arrangements provided by our eccentric vocal band. 
Our exceptional acapella group and live music show features an impressive repertoire that includes songs by Bjork, Radiohead, U2, Rage Against The Machine, Sting, Metallica, and a lot more. Delivering a high musical standard to your special occasion, our live music show experience is filled with complex arrangements and embellished with an innovative sound design that will leave lasting impressions. Showcasing stunning vocal art and wonderful on stage personalities, our live music show is the perfect option for private parties, gala dinners, drink receptions, weddings, theatre performances, music festivals, and much more. 
If you are interested in bringing our renowned acapella group to your upcoming social gathering, contact any of our fantastic Scarlett Entertainment team of experts who will be more than happy to answer your questions, as well as guide you through our booking process.
" In a world where everybody wants to put together a band but very few want to put the effort into it, they're like a breath of fresh air. Interesting, well written arrangements, intonation, exceptional individual voices that blend beautifully and a solid vocal drumming that doesn't just "add a beat", make this band one of the most exciting new acts in the a cappella world. "

Erik Bosio, CLUSTER
" They're a remarkable group of vocalists that can only be described as an ensemble that defines a cappella music in the 21st century. One has to experience their style, blend and showmanship to appreciate what contemporary group singing is all about. They will transform you from an easy listener to an avid fan of their musical excellence. "

Bob Stoloff, Berklee College of Music