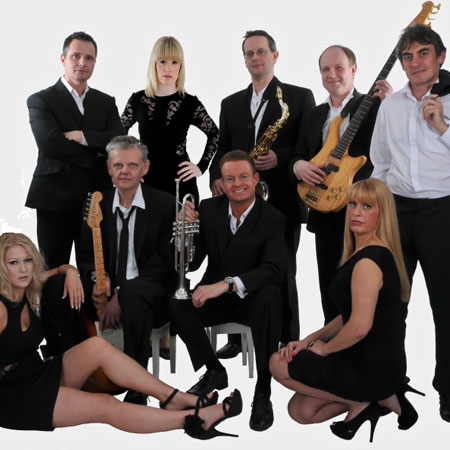 The Commitments Tribute
Capturing all the energy, atmosphere & brilliance of the feel-good movie
6 top musicians & 4 stunning vocalists playing the best soul & motown hits
Popular with corporate events, weddings, private parties, theme nights
Previous clients inc Vodaphone, Man Utd, Fuji Film, Toyota, Butlins, 02
Based in the Midlands & available to perform at events across the UK
The Commitments Tribute VIDEOS
The Commitments Tribute PHOTOS
This act is a live 10 piece tribute to the hugely popular feel-good movie of the nineties, The Commitments. The live show is dynamic, visual, authentic and accurate, Capturing all the energy to truly recreate the atmosphere and brilliance of the movie with music such as Mustang Sally, hard to handle, and Take me to the River, plus many classic soul hits too.  This tribute band are confident they can deliver the best... Commitments tribute show around.
This fast paced energetic show features 6 top class musicians and 4 stunning vocalists, playing homage to the best soul and motown hits from the likes of Wilson Pickett, James Brown and Aretha Franklin amongst many others.  The band are guaranteed to get everyone of any age up on the dance floor, or just sit down and listen, the sound is amazing!
The group are a totally live authentic tribute or function band to the classic soul era of the 60's and 70's. Everybody, old and young alike, love the music of this period but there are very few live bands around who can truly capture the sound and feel of the great music at that time. This tribute band really do fulfil this need and the audience reaction at all of their performances is always incredible.
The six musicians in the band are all hugely talented professional performers, whose love and enthusiasm for playing together is obvious from their hugely entertaining performances. With four strong lead vocalists this gives the band the versatility to authentically perform all of these great songs.
Mustang Sally
Chain Of Fools
You Can't Hurry Love
Land Of 1000 Dances
Rescue Me
Sweet Soul Music
Dancin' In The Street
Show Me
Destination Anywhere
Take Me To The River
Band Of Gold
Treat Her Right
R.e.s.p.e.c.t.
Hard To Handle
Dark End Of The Street
Too Many Fish In The Sea
Try A Little Tenderness
And Many More!
Soulman
Unison
Vodaphone
Hilton Hotels Group
2
Stannah Group
And Many More!
Fuji Film
Toyota
Butlins
Manchester Utd
Irish Guards (germany)
Private Weddings Parties And Celebrations Across The UK
Warner Holidays
" We saw your show at The Pavilion, Branston on friday night and you were totally outstanding. With 4 young kids "we don't get out much!" but we were SO pleased that, with some friends, we were able to be there. We danced all night, as did most of our table. The music was a great balance, showed off all of your immense talents, and relived the film (one of our very favourites) alongside many other great classics. You had us smiling all the way through. Many thanks and we hope to see you again if you are back in town at any stage. "

Phil & Christine
" Thanks for such a great evening when you played for Pontefract & District Golf Club's Annual Dinner Dance on 28th November. We booked you after seeing you guys at Bibi's Leeds and we bigged you up so much to our members that we were a bit worried it was all going to be a bit of a let down. I am pleased to tell you that you lived up to the reputation we had given you and more. You now have 245 more fans. Thanks guys. "

Maurice Ludwell
" Thank you so much for playing at my 18th birthday in October. You where so amazing I absolutly loved you, you sounded amazing and looked brill and it was just so much fun. You are a quality band and thank you so much for playing. It made my birthday. "

Jasmine McHugh
" Thank you for playing at our wedding. You made it amazing and everyone one of our guests said it was brilliant and the best wedding they had been to. We think it was down to you all. When we have our next function we will be calling on you. Thank you so much. "

Steve and Trish McCarthy
" What a performance (awesome) your the best tribute band ive ever seen and ive seen a lot. Hope to see you again. "

Sammy