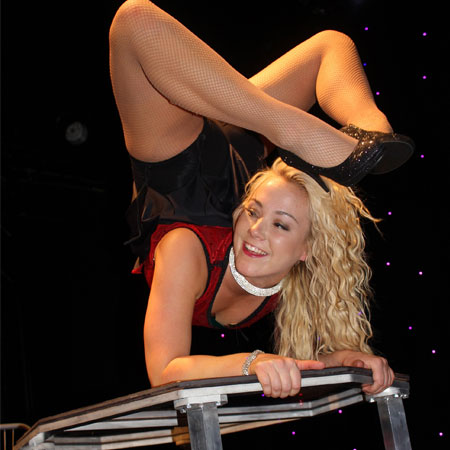 Themed Female Contortionist
Female contortionist & circus entertainer offers two themed contortion acts
Over 18 years of circus training experience shows in her professional shows
Can customize her performance to inc. specific music, costumes & themes
Has performed hundreds of shows in over 43 countries in the past decade
Based in Sweden & available to book to perform at events worldwide
Themed Female Contortionist PHOTOS
Offering a highly unique themed contortion act, our fabulous female contortionist and circus performer will wow guests as she effortlessly bends her body into impossible positions and shapes!
She has nearly two decades of circus training experience, and this expertise and complete confidence in the abilities of her body and her equipment shows through in her utterly awe-inspiring contortion act. Our incredible female contortionist offers two impressive themed contortion acts:
Date Night
Our lovely contortionist is dressed all in red and ready for a dinner date, but audiences will be amazed what happens when her date doesn't show up! A captivating theatrical contortion act performed on a restaurant table, audiences will watch mesmerised as our circus contortionist elegantly twists and folds her body with expert precision. There is even a moment where she stands on real eggs without breaking them - a real testament to her immense agility and strength! The perfect opening act, book our themed contortion act for corporate dinners and special occasions.
Black is Black
Modern, elegant and really very stylish, this contortion act sees our Swedish contortion act give a dynamic contortion performance on a diamond shaped table. Highly artistic, book this beautiful contortion show for gala dinners, special celebrations and more.
All the elements that make up her shows are completely customizable, form the music, to the costume, to the theme and even the ambience created! Our female contortionist is more than happy to customize her show to suit your needs and your event.
Top Tips
A talented circus performer, our female contortionist can also offer aerial silk, trapeze and adagio performances, get in touch with one of our entertainment coordinators to find out more!
Our fantastic female contortionist has residences in both Sweden and the USA.
Tv-show Norske Talenter Norway Nov 2013 - feb 2014
Gala City Festival Germany Dreieich Aug 2013
Gala Company Event Germany Hannover Jan 2013
Cruise Ship Msc April - Oct 2012
New Year's Variety Switzerland Herdern Dec 2011
Monte Carlo Gala Dec 2011
Variety Show Krystallpalast Leipzig Aug - Oct 2011
Sri Lanka Gala At The Hotel Cinnamon April 2011
India Feb 2010
Circus In Riga July 2009
Latina Circusfestival Italy Oct 2008
La Folie Rouge Eventohem Lebanon Feb - March 2015
Variety Show Germany Bochum Sept - Oct 2013
Tour India June 2013
Variety Show Hansa Theatre Germany Hamburg Oct 2012 - Feb 2013
Guldstänket Company Event Västerås Sweden Feb 2012
Gala Gop Germany Saarbrücken 26th Dec 2011
Switzerland Gala Dec 2011
Gala Germany Koblenz July 2011
Cruise Ship Msc Poesia May 2010 - March 2011
Cruise Ship Ibero Cruceros Aug - Oct 2009
Galas Braunschweig Germany Dec 200
Cruise Ship Msc Aug - Oct 2008
Circus Huberti Germany June - August 2014