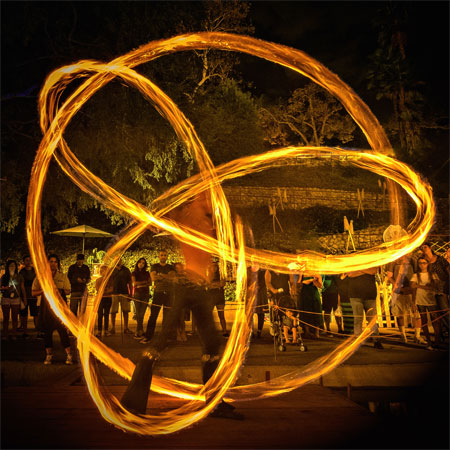 Tribal Fire Dance Act
Unique fire shows combine tribal dance & martial arts with fire performance
Fire acts inc. flaming swords, staffs, ball & chains, fire breathing & fire eating
Additional fire dancers can be added to create a choreographed fire act
Previous clients inc. Cirque du Soleil, Nike & the American Cancer Society
Based in California & available to perform at events worldwide
If you're looking for an adrenaline filled fire performance that will captivate and enthral guests at your event, look no further than our unique fire act based in California.
Offering a unique fire act that combines elements of tribal dance and martial arts dance with impressive feats of fire artistry, this fire performer has already wowed audiences at events for the Burning Man Official Fire Conclave, Cirque du Soleil, Deepak Chopra, Nike and the American Cancer Society.
Guests at your event will be mesmerized as this fire juggler spins intricately woven circles of fire which leave burning trails in the air. A raging spectacle, his fire shows incorporate fire breathing and fire eating, and a range of tools including flaming swords, staffs and ball and chains.
Hire our fire performer in California for corporate events to light up the night as your guests arrive at your event, family festivals and as wedding entertainment. His natural showmanship and highly skilled fire performance will inspire audiences.
Our Tribal Fire Dance act's fire performances usually take the form of a 20 minute show or several 5 to 10 minute shows throughout your event.
Top Tips
Want to add an interactive element? This dancer can also perform walkabout fire eating vignettes before the main show to get guests fired up!
Looking for more of a show? Additional fire dancers can be added to the mix to create a fully choreographed fire act.