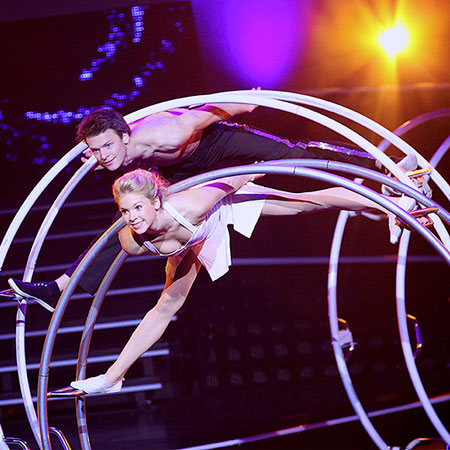 Wheel Acrobats
World champion duo presents an artistic show at the highest level
Perform breathtaking acts in the German Wheel and Cyr Wheel
Runners up in TV show Holland's Got Talent
Performed in India, Qatar, UAE, Mexico, USA, Malaysia, Netherlands, UK
Based in Amsterdam and available to perform at events worldwide
This world champion-duo combine their backgrounds in German wheel, cyr wheel, aerial arts and acrobatics to create spectacular shows for corporate events, product launches, festivals and TV shows worldwide.
Their aesthetic and expressive show features sensational wheel tricks at the highest level.  Audiences are fascinated by the strength and the beauty of their unique and stirring performance.  Over the last few years they have performed on international stages in India, Qatar, Arab Emirates, Mexico, USA, Malaysia, Netherlands and the UK.
They offer solo and duo performances. All their acts are ready to be performed, but if required they can be adapted to match your specific event.
Their spectacular performance include artistic show acts in:
German Wheel
Duo-Show
Tricks in the wheel are combined with acrobatic elements. An interplay of gender, powerful male and female elegance! Dynamically the artists melt together, they move in one wheel or synchronized in two wheels. The constant movement creates dynamic choreography's with constantly changing impressions.
The Duo-Wheel Show contains two artists and two wheels and can include elements in straight-line as well as in spiral.
Solo-Show
You can choose between the two opposites. The graceful and elegant performance from Laura or the powergame between Boy and his wheel.  They combine both exceptional skills in the wheel with elements of gymnastics and acrobatics.
The Solo-Wheel Show contains one artist and one wheel and can include elements in straighline as well as in spiral.
Cyr Wheel
It is fascinating – as if by magic the artist circles the wheel. It takes astonishing precision and balance to keep it in constant motion.  The cyr wheel has an amazing visual appearance which the artist can twist, balance and pose in the most enthralling ways.
A spectacular and expressive show at the highest level, which enthrals the audience.
Aerial Acts
Solo & Duo
The silk fabric hangs from the ceiling and takes a leading roll during the act. The artist is swinging through the air, twisting and wrapping herself within the fabric and appearing to fall effortlessly to the ground, using the fabric to save her.
The audience enjoys beautiful figures the artist forms with her body in the air. Grace and agility are united into a ravishing aerial acrobatic act.
Handbalancing
The artist harmoniously connects contortion with hand balancing. Contortion is a dramatic display of bending and flexing of the human body and balancing is an act where the performer connects graceful acrobatics with strength and techniques.
Viewers will admire aesthetic movements with powerful figures. These eye-catching movements combine beauty, passion and elegance.
If you require any assistance or wish to know more about this act, contact one of our friendly members of staff.
10 times German Champion 2001 – 2010
USA Circus-Show "Ravens Manor" & "Atlanticus" 2007-2008
USA Minneapolis Orchestra Hall 2007
India-Mumbai DHL Cricket Final *
Mexico Festival Cerventino *
Malaysia Guinness Festival *
Spain-Zaragosa Football Match *
Belgian Corporate Event "Euphony GmbH"
Germany Gymmotion Show-Tour
Netherlands
107 Efteling Shows 2008 – 2012 *
Opening Show Special Olympics 2012
Evolution Theater Tour 2010 – 2011 *
Soccer Premier League – Arena Show 2009-2010
Hollands got Talent 2011 – 2nd place
Sternstundengala – ARD Germany
Nickbattle
Current World Champions
10 times Dutch Champion 2002 – 2012
Performance Career
USA Charity Gala by Goldie Hawn" 2007
Qatar Street Festival *
Turkmenistan Foundation Stone Olympic Complex
Ukrain SCM Electronics 10th Anniversary
Spain-Valencia Outdoor Festival *
United Kingdom-London ARK Millionaire *
Germany Wintergarten Theater in Phantasialand
Carré Charity Event 2012
Univé Gymgala 2011 & 2012
Musik Festival "Dance Valley" 2012
Flash Mob Schiphol Airport 2010
Corpus Acrobatics Theater 2009-2012
TV performances
Hollands got Talent 2012 – Opening show
BZT show
Ernst Bobby en de rest
8 times World Champion 2005 – 2011
IDEA ARTICLES RELATED TO Wheel Acrobats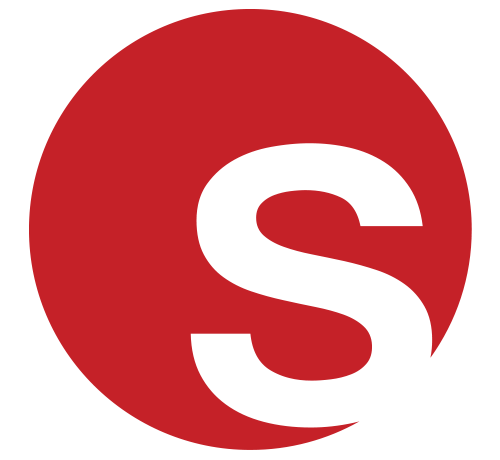 Got Talent The Champions: Our Favourite Talent Show Acts Across The World
Got Talent The Champions: Our Favourite Talent Show Acts Across The World
Grace Henley
|
31/10/2019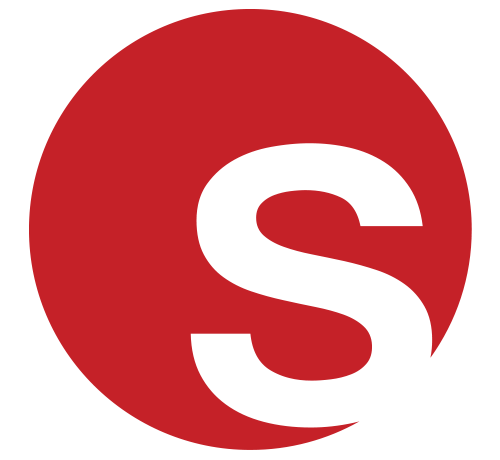 Acts Fit for Royalty: Wow Guests with our Royal Variety Performers
Acts Fit for Royalty: Wow Guests with our Royal Variety Performers
Grace Henley
|
17/04/2019