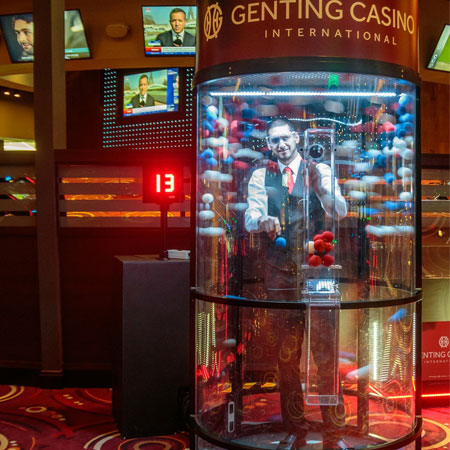 Cyclone Ball Exhibition Game
A fun interactive gaming challenge that is guaranteed to get guests involved
Appeared on Dragons Den and has since become a corporate entertainment favourite
Cyclone exhibition game can be customised to include branding and images relating to a theme
Interactive entertainment is perfect for exhibitions, trade shows, corporate events, weddings and more
Book our cyclone ball game for events in the UK and worldwide
Cyclone Ball Exhibition Game VIDEOS
Cyclone Ball Exhibition Game PHOTOS
If you're looking for interactive entertainment that is guaranteed to draw crowds book our cyclone ball game for your next event!
Unique entertainment at its best, the cyclone was first brought into the mainstream by its creators when it appeared on Dragons Den in 2011. Since then it has become a favourite interactive gaming challenge choice for corporate events and exhibitions, and has also featured on countless TV game shows.
This innovative design features a perspex cylinder through which air is blown to create a cyclone of hundreds of coloured foam balls, the challenge is for the participant inside the game to try and catch as many of the right coloured balls as they can and feed them into the chambers built into the side of cylinder. Of course there is a time limit in place and it's a race against the clock to win!  
As fun for those watching, due to the clear casing, as it is for those participation, this is one of our most popular interactive games.
The cyclone is available in two different sizes, the first catering to one or two gamers, and the second up to three. There is also a smaller version available specifically for children.
Cyclones can be customised inside and out with branding making them the perfect choice for corporate event entertainment and exhibitions; eye-catching and offering a unique experience they will be hugely popular with event attendees! They can also be customised with specific lettering, colours and designs to fit in with a specific event theme - a great choice for weddings and private parties.
Whether as corporate entertainment, exhibition entertainment, or wedding entertainment, book our cyclone ball game and guarantee your guests a fun, exciting and memorable time!
TopTip:
Add some bling to your next event. Our cyclone game is also available in Gold (see the third video above) perfect for any event with a luxury theme such as your company's 50th anniversary event, corporate incentive points, casino, weddings or gold ticket events.​
Contact us now to speak to our team at Scarlett Entertainment.