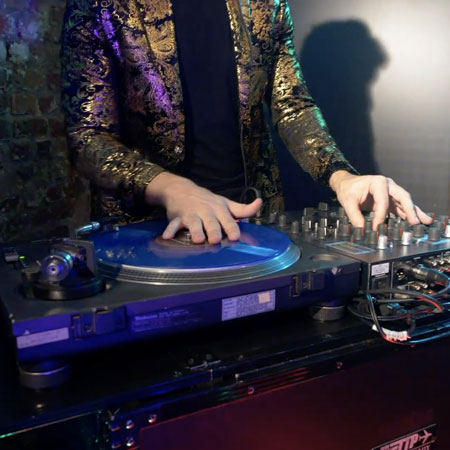 DJ and Live Sax
HTML: DJ and musicians with live dancers will bring the house down at the end of the night! International English: An explosive performance by DJs, musicians, and live dancers will electrify the atmosphere and create an unforgettable finale as the night comes to a close!
Highly skilled club musicians will infuse your event with an electrifying Ibiza ambiance.
Our dynamic DJ collaborates with skilled percussionists and talented saxophonists to create an engaging and enchanting entertainment experience.
Guests from around the world will be captivated by our talented live DJ and engaging roaming musicians. They will be irresistibly drawn to the dance floor, ensuring an unforgettable night of non-stop dancing.
Based in London, our DJ and Live Saxophone performer is ready to take the stage at events all around the world. With their electrifying music and captivating saxophone melodies, they are the perfect addition to any party or gathering. Book now to bring the ultimate entertainment experience to your international event.
Introducing our exciting live DJ act, our DJ and Live Sax musicians are an absolute must to ensure your party goes on until the early hours!
Providing an unforgettable experience for your guests, these talented club musicians blend a live DJ with percussionists, roaming saxophonists, and dancers, creating captivating live music entertainment.
Revitalize your party towards the end of the night by ensuring the energy levels stay high with our dynamic and high-energy live DJ and musicians.
Your guests won't be able to resist hitting the dance floor alongside our roaming saxophonists, who offer sensational interactive entertainment right on the dance floor. Capture the perfect selfie moment as our DJ and musicians happily pose with dancers and guests, creating an up-close and personal experience.
Perfect for corporate events, parties, weddings, club nights, venues, and more, our highly talented and experienced artists will deliver an unbelievable live music experience for your guests.
Top Tip:
Why not enhance your event by booking our club musicians alongside their dedicated show band, the Party Cover Band London? Comprised of exceptional live musicians, this collective of performers and artists is ready to make your party an unforgettable one.
Scarlett Entertainment offers a wide selection of DJ and musician acts to bring the vibrant Ibiza atmosphere to your next event. Explore our impressive range of roaming saxophonists and live DJs, featuring crystal-encrusted and LED instruments that will make a splash at your event.
To book this incredible DJ and Live Sax act, along with percussionists and dancers who will bring down the house at your next special occasion, get in touch with our team of Entertainment Experts who will be delighted to assist you.