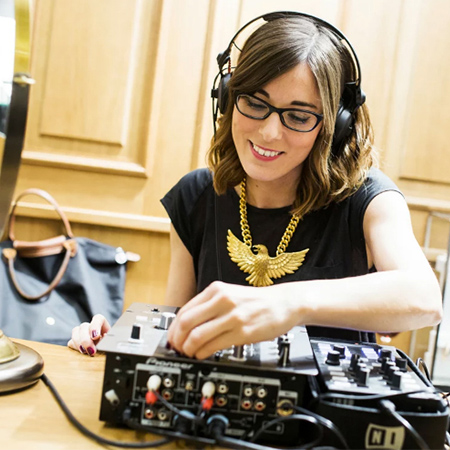 Event Female DJ
An original and versatile DJ who will bring the best Indie, Pop and 60s and 70s classics to your event
Has performed at numerous parties and festivals such as Momo Bilbao, Stereorocks, MAZ Festival, etc.
Ideal for product launches, corporate events, weddings, private parties and many other occasions
Previous clients include Tous, Aristocrazy, San Miguel and BMW, to name but a few
Based in Bilbao and available for performances across Spain
Bring good vibes to your upcoming event or celebration with this amazing Event Female DJ, a versatile and original artist that promises not to disappoint. Whether you're hosting a corporate event, a product launch or a wedding, our live artist that will make everybody at your special occasion enjoy themselves and have the time of their lives.
Influenced by world-famous bands like The Who, Led Zepellin or the Beatles, this amazing live artist is constantly searching for new trends in the musical industry in order to offer her audiences the latest and most in-demand tunes. Her vibrant live show is a combination of the best char-topping songs with some 60s and 70s classics.
This talented Event Female DJ listens carefully to clients' requests, so she's always happy to adapt her set list to fit your party's requirements. From fresh modern sounds to 60s and 70s classics, our live artist is guaranteed to satisfy a wide range of audiences and a variety of music tastes.
Available to perform both indoors and outdoors, this versatile live DJ can be the ideal live music entertainment for garden weddings, product launches, corporate events, store opening parties, among many other types of occasions.
Renowned brands such as Tous, Aristocrazy or BMW are among her happy clients. She has also performed at events hosted by Desigual and San Miguel and she's an especially in-demand option for weddings. By checking the first video above, you'll see how much fun wedding guests have when she provides the entertainment. Grooms and brides can be sure their special day is in safe hands if they decide to book our DJ for their wedding's evening party.
Our versatile live DJ has plenty of experience performing at numerous private parties and festivals. She has brought her fresh modern sounds to festivals such as Momo Bilbao, Stereorocks or MAZ Festival.
Scarlett Entertainment offers a wide variety of female DJs for events and parties all around the world.
If you'd like to check this wonderful Event Female DJ availability to perform at your party, then contact us today and make your enquiry. Our in-house team of experts will be happy to guide you through the booking process. 
BMW
Cerveza La Salve
Deusto Business Alumni (DBA)
Max&Co - Store Opening Event
Arriaga Theatre
Alhambra Reserva
C.C Artea - Bloggers Meeting
Desigual
Fanzone Seat by MARCA
San Miguel - Bilbokatessen
Tous
Aristocrazy