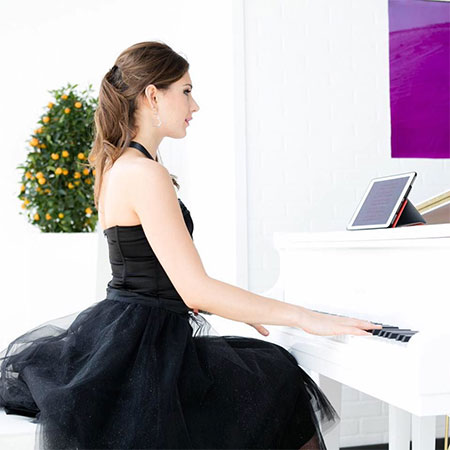 Female Solo Pianist
Sophisticated female piano player will captivate listeners with her natural elegance soft piano music
Repertoire includes contemporary music and also romantic movie songs and other film soundtracks
Has captivated listeners with her natural elegance and refined style in Turkey, Qatar, Malaysia, Bahrain
Perfect live music entertainment option for hotels, cruise ships, receptions, cocktail lounges, etc.
This Female Solo Pianist is currently based in Bahrain and available for bookings worldwide
Ensure guests at your reception or party enjoy their stay or an evening of nice instrumental background music by hiring the live music entertainment option for it. This is precisely what this Female Solo Pianist can guarantee.
A talented musician with a sophisticated playing style and natural elegance, this female piano player will add a refined touch to any occasion. Always dressed appropriately for the occasion, this artist can wear different evening gowns that go in accordance with your hotel, restaurant or venue's décor.
Originally from Ukraine, our female piano player is constantly traveling the world delighting listeners with her soft piano covers. She has played background piano music at drinks receptions, cocktail lounges and lobbies in countries such as Turkey, Malaysia, Qatar and Bahrain, where she's currently based in.
Her vast repertoire can be adapted to your event's style and needs. Among the different instrumental background music she can play, we can find contemporary hits like 'All of Me' by John Legend; romantic movie songs like 'Love Story' and melancholic melodies such as the 'Schnidler's List' soundtrack. Our elegant pianist can also play any songs on request and perform accompanied by other musicians or live singers, as she's always happy to share the stage with other artists.
Ideal live music entertainment for a wide range of occasions, background piano music is especially suitable for cruise ships, hotel lobbies and receptions, restaurants, drinks receptions, cocktail lounges and other social gatherings.
At Scarlett Entertainment we pride ourselves on providing Live Music Entertainment for occasions in the Middle East and all over the world.
If you're interested in booking this talented and sophisticated Female Solo Pianist, then don't wait anymore and contact our Entertainment Coordinators today. They will be delighted to give more details about this wonderful female piano player and guide you throughout the booking process.