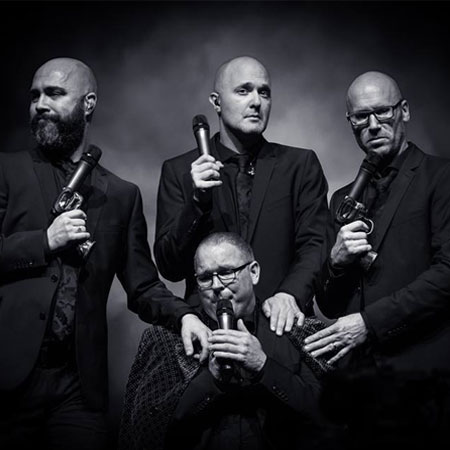 4 Piece A Cappella Band
Innovative & witty, our engaging vocal band provide accomplished live music performances
The 4 piece acapella performers provide spectacular covers of classical, pop, rock & jazz music
Our successful harmony singers have been featured on television, radio & in the newspapers
A high impact entertainment option for weddings, corporate functions & concerts
Based in the Netherlands & available to perform at events worldwide
4 Piece A Cappella Band PHOTOS
Hire harmony singers and contemporary choirs for your event from Scarlett Entertainment Holland. Available to perform as a unique a cappella group at events in Holland and abroad, our accomplished a cappella group provide high quality musical entertainment, using only their voices to produce incredible sounds.
Featuring four professionally trained singers, the vocal group can cover a wide range of styles including pop, rock and jazz. Our amazing singing ensemble performs in a wide variety of musical genres whilst instilling every show with a dose of theatricality and humour. 
Happy to tailor their high quality sets to your specific event requirements, our vocal band will provide exceptional performances for weddings, receptions and garden parties or even full length shows for galas and corporate events. The experienced singers have been featured on many radio shows, television programs, in newspapers and are globally recognised for their professionalism and unique performance.
Speak to our team at Scarlett Entertainment Holland today for more information about hiring opera singers or vocal harmony singing choirs for your special occasion.
Shiseido
Key-Systems Internet Solutions AG
EuroFin Galadiner
Mondriaan Den Haag
AllSeas Engineering
Het Openbaar Ministerie
Abva Kabo
AGIS Zorgverzekeringen
LEF 2012
MS Deutschland Cruises
Openingsfeest 2e Fase Dburg
Miljonairfair
Intergenia/PlusServer AG
De Nederlandsche Bank
Rabobank
MBO-Diensten
De Staatsloterij Award Show
Limagrain Nederland
Ben & Jerry's
Spijker Druk
Milieuconferentie Ministerie van VROM
Yamaha Benelux
KPN
" A strong, entertaining show from 4 multi-talents "

Het Parool
" […], more than just singing in tune "

De Telegraaf, NL
" The ensemble excelled in comedy and good timing. The audience was amazed by the performance of these four men "

Rheinische Post, DE
" If Monthy Python would have sung A Cappella, they would have done it like this "

Nordsee-Zeitung