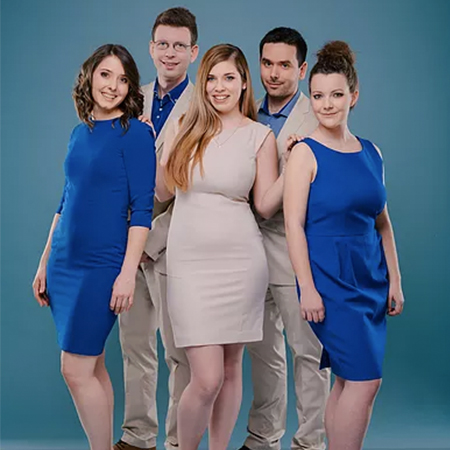 A Cappella Jazz Singers
Multi-awarded a cappella jazz quintet consisting of two male singers and three female vocalists
Talented a cappella performers deliver stunning jazz arrangements by only using their voices
Always happy to share the stage with other live musicians and orchestras
Always happy to share the stage with other live musicians and orchestras
These A Cappella Jazz Singers are based in Budapest and available for worldwide bookings
A Cappella Jazz Singers PHOTOS
If you're audiences are a cappella and jazz music lovers, then they will love seeing this A Cappella Jazz Singers perform at your event. A multi-awarded musical ensemble that combines both elements, these talented a cappella vocalists are guaranteed to make audiences burst into applause and get them talking about your event for years to come.
Consisting of two male singers and three talented female singers, this a cappella jazz quintet offers a unique sound by only using one element: their incredible voices. Their boundless talent and work have been recognised with many awards. Our artists have won four international awards including the Ward Swingle Award given by Vokal Total Inernational Acappella Festival and the Vox Populi Award at the Independent Music Awards, to name a few.
Always performing with great passion, these talented a cappella vocalists offer performances that will make jazz music lovers' hair stand on end. Their a cappella performances are also a great way to introduce young listeners to jazz music. Our performers always dress matching outfits and will dress appropriately for each occasion. As a quintet or along with other live musicians or an orchestra, they will ensure your event is a huge success.
Our phenomenal a cappella jazz quintet has delighted audiences and jazz lovers all over Europe. They even had the opportunity to perform at Taichung Jazz Festival in Taiwan, when they captivated Asian listeners with their stunning jazz arrangements.
Ideal live music entertainment for festivals, open-air celebrations, after dinner experiences, gala dinners, etc., this a cappella jazz quintet can adapt their repertoire and set list to different situations and events. Whatever the occasion, they will make sure your audiences enjoy an hour of good music.
Scarlett Entertainment can offer a cappella singers for events, festivals and parties in Europe and all over the world.
If you would like to book our amazing A Cappella Jazz Singers, don't hesitate to get in touch with us today and make an enquiry. Our in-house team of entertainment experts will be delighted to answer all the questions you may have about our multi-awarded musical ensemble and guide you through the booking process.