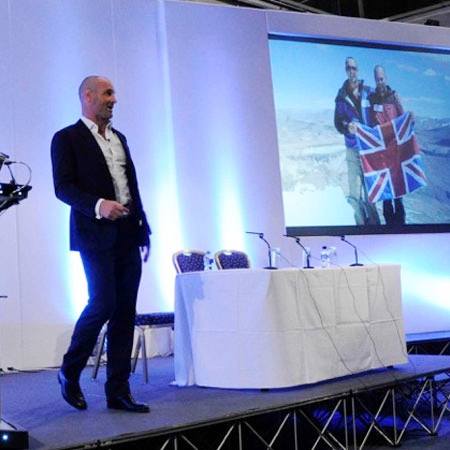 Adventure Speaker Ed Stafford
Guinness World Record-Holder - first man to walk the Amazon and European Adventure of Year 2011
He's an experienced explorer, author and TV presenter seen in the Discovery channel, BBC and Channel 4 documentaries
Awarded the Mungo Park Medal by Royal Scottish Geographical Society and outstanding bravery from the Transglobe Expedition Trust
Named 'Britain's most intrepid hero since Scott of the Antarctic'
Motivational and key note speaker available to hire in the UK and Globally
Ed Stafford walked into the history books when he became the first man to walk the length of the Amazon River. His epic adventure took two and a half years and everyone thought it was impossible. His achievement is, as explorer Sir Ranulph Fiennes put it: 'Truly extraordinary… in the top league of expeditions past and present'.
Ed Stafford is passionate about encouraging others. He is honest and real about the challenges he faced in the Amazon: alligators, snakes, severe floods, electric eels, jaguars and the hostility of local tribes confronted with a tall foreign man in their midst. Ed's story has powerful lessons about seemingly impossible challenges, resilience, risk, working with others, respect for other cultures and the natural environment and, of course, motivation and staying positive when things are relentlessly tough. Ed's style of delivery ensures that messages about success in the face of adversity, the determination to achieve targets and riding out tough times are delivered in a very entertaining way with a large dollop of self-deprecating humour.
Ed filmed and blogged about his expedition from the heart of the jungle and engaged followers through social media during his long expedition. On his return, Ed's footage was made into a Discovery Channel documentary and was sold to over 100 countries. His acclaimed book, Walking the Amazon has been translated into Mandarin, Ukranian, Polish and Spanish and has been published in the USA.  In this book, Ed writes on completing this journey: 'It was over nine million-odd steps; over 200,000 mosquito and ant bites; over 8,000 kilometres walked over 860 days, 733 of them with Cho [Gadiel 'Cho' Sanchez Rivera], about 600 wasp stings; a dozen or so scorpion stings; 10 HD video cameras; six pairs of boots; three GPSs and one Guinness World Record.'
News that Ed had succeeded against all the odds caught the imagination of the world's press immediately: his story featured in over 900 articles and on news channels worldwide.  Among many accolades, Ed was named 'Britain's most intrepid hero since Scott of the Antarctic' (Daily Mail) and 'A true hero' (The Times).
The motivational Ed Stafford was awarded European Adventurer of the Year 2011. The Guinness World Records formally recognised Ed Stafford's achievement and Ed also received an award for outstanding bravery from Sir Ranulph Fiennes and the Transglobe Expedition Trust.
Following his epic walk of the Amazon, new challenges and opportunities were to follow.  Ed filmed himself surviving on an uninhabited island for 60 days – a tough project testing Ed in many and often unexpected ways.  The resulting series 'Naked and Marooned with Ed Stafford' was shown globally on Discovery Channel during 2013 and Ed's book about his experiences was published the following year.  He continues to work on acclaimed television projects: Ed's subsequent survival series 'Marooned' was shown worldwide on Discovery in 2014/5 with a second series warmly greeted by Ed's fans in 2016. 
During each episode of 'Marooned' Ed is left alone in remote, harsh and difficult extreme environments for ten days learning to survive (and attempting to thrive) and filming the survival adventure himself.  In 2015, Discovery Channel aired an acclaimed new series 'Into The Unknown' with Ed as he explored remote locations around the world seeking unexplained markings that have been revealed on the landscape through satellite images.  Ed continues to work on exciting and challenging projects. Ed used his jungle expertise to help climbing legend Joe Simpson follow his father's footsteps during WWII.  Ed and Joe's story was shown in a two-part TV series on Burma's Secret Jungle War on the BBC in May 2016.
Ed's next series for Discovery Left for Dead (2017) saw him escape some of the planet's most extreme environments: subtropical forests, frozen tundra and desolate mountains. Dropped with no survival kit, Ed must rely on his survival instincts to make his way out of the wilderness in 10 days. Ed continues to work on exciting and challenging projects. In First Man Out, Ed challenges the ultra-fit elite from across the world to survive in remote locations and race to an agreed exit point across tough terrains. First Man Out was a huge success for Discovery and a second series will be shown in
2020.
Ed was delighted to be chosen to work on 60 Days on the Streets a three-part documentary for Channel 4 shown in 2019. Ed's vivid account of sleeping rough (and filming the experience) on Britain's streets in Manchester, London and Glasgow humanized the homeless and helped tell something of their stories.
Ed intends to use his adventures to inspire adults and kids alike to stretch their horizons and believe that they can do so much more.
Ed Stafford has given keynote talks in New York, London, Sydney, Istanbul, Barcelona, Geneva and many other cities worldwide. He is fast becoming the inspirational adventure speaker to book. He is honest and real and has a no-nonsense way of imparting the lessons he learned along his mammoth journey. 
Speaker topics:
Overcoming Adversity
Taking Risks
Resilience and Determination
Goal-Setting 
Taking On Challenges
Motivation
Scarlet Entertainment has many different motivational and keynote speakers which you can hire. You can find more on our Leadership and Motivational speakers page. 
If you would like to book Ed Stafford as a motivational speaker at your event then please contact one of our Speaker Experts who are always on hand to help. 
" Your talk was a true hit with everybody at the event. It was truly inspirational, heartfelt, expertly delivered and closed out our conference on a perfect note. In fact, we received our formal customer feedback (by which the customers all rate the speakers for the two day event) and you almost had a perfect score. You had all 5 out of 5 – except for one 4 out of 5…btw, we're still tracking that person down! Seriously, that's an incredibly high score, and a testament to the power of your story. "

Cognizant
" Ed delivered an absorbing, fascinating and thought provoking presentation that was absolutely perfect for our audience. Our brief to him was slightly different to his usual motivational speeches but he crafted his presentation superbly, it was very relevant and created the inspirational start to the conference we were looking for. He is very engaging, amusing and talks about his amazing experiences in such a modest manner. Next time we will make sure we allow more time for him to speak as our audience were captivated which was apparent afterwards when so many were keen to speak with him. "

Anglian Water
" You could not have hit the mark more completely with what you said.
 Not only was the content of enormous interest in its own right, but your delivery was extremely moving. "

Ernst & Youn
" Ed spoke at our two-day Leadership Conference and although his tale of walking the Amazon is something not many of us have experienced, Ed's story and the humanity behind it resonated with each of us. His engaging and honest approach to storytelling captivated the audience and really lifted the energy in the room. We were with him every step of his journey. Ed received really great feedback from the attendees – his story is so interesting, and his style/manner of presenting is really genuine. People said he was the perfect end to the two days. "

WPP
" A fantastic end to our Annual Conference, Ed Stafford provided a gripping account of his adventures and of the challenges he overcame. Providing insight into overcoming adversity, his speech resonated with the audience and was well received. "

ARMA
" You think you've heard all the motivational speeches there are to hear, then someone like Ed proves you wrong. Hearing his tale of determination put any challenging experiences we'd ever had in the workplace into perspective. "

The Oxford Union
" As for Ed Stafford - the feedback was brilliant. His session really lifted the afternoon and the feedback was fantastic. His down to earth approach and the story he told was well received. I think he gained a few "fans" on the day and our guests left on quite a buzz. "

2Plan
" I just wanted you to know that the team have given you fabulous feedback -"raw" and "real" were the most frequent words used. "

The Financial Times
" Fantastic, inspiring closing speaker to complete the three days. Sent everyone away ready for the next challenge and energised to get back to work. "

Delegate Feedback after Keynote for RFU
" Excellent speaker, very genuine, engaged the entire audience and I think he tried to adapt his delivery to fit the audience. Have seen other key note speakers who have just delivered their standard out of the box speech "

Rugby Football Union
" 'Ed was fantastic and I think a large part of this was due to his warm and engaging style... Taking time to understand the audience and our goals before the event, Ed delivered a fantastic session for the Waitrose Personnel Conference. His warm and relaxed style instantly engaged the audience and his inspiring story left the team on a complete high. I wouldn't hesitate in recommending Ed to anyone looking for an inspirational and motivational speaker.' "

Waitrose