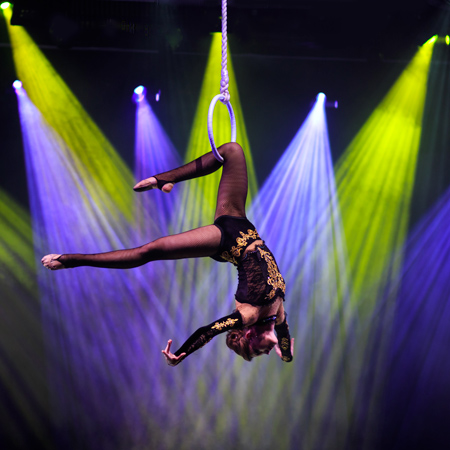 Aerial Hoop Act Ukraine
Outstanding female hoop artist with breathtaking aerial act will amaze the audience
Magnificent and beautifully choreographed acrobatic aerial dance
Glamorous circus entertainment for many events or occasions
Super talented aerialist with years of experience
Based in Southern Ukraine and available internationally
Aerial Hoop Act Ukraine PHOTOS
Scarlett Entertainment boasts a varied roster of glamorous entertainment that is going to amaze audiences whilst upholding the aesthetics of a prestigious event. If you would like to really impress your guests with and outstanding aerial act that displays skill and elegance then book this superb female hoop artist for an unforgettable show. The acrobatic aerial dance is the kind of circus entertainment that is exciting, versatile and captivating for audiences world wide.
This talented female hoop artist is dressed to impress in a stunning gothic and baroque style costume that brings a sense of class and glamour to this kind of circus entertainment. Starting with a short dance the aerial act progresses into a masterful and fascinating acrobatic aerial dance that viewers won't be able to look away from. Suspended from a single hoop high above the stage is where this aerialist shows off her incredible skills and graceful routine. It is a cleverly and carefully choreographed acrobatic aerial dance backed by a French ballad song giving the performance a charming, sophisticated sensual aura.
This stunning and versatile circus entertainment is suitable for audiences worldwide and a great addition to many different types events. Our Aerial act would be incredible entertainment to wow your guests at a gala dinner, fascinating for award ceremonies and a crowd puller at family events. Spectators will be totally transfixed on her gravity defying acrobatic aerial dance and blown away by the skill and precision of the performance.
Iryna is a Ukrainian female hoop artist with years of experience. Having studied acrobatics she also spent time teaching physical training. Iryna is the winner of championship sport acrobatics and has experience working on a cruise ship providing high class entertainment for the passengers.
To book this captivating circus entertainment for your special event, speak to one of our team members at Scarlett Entertainment.