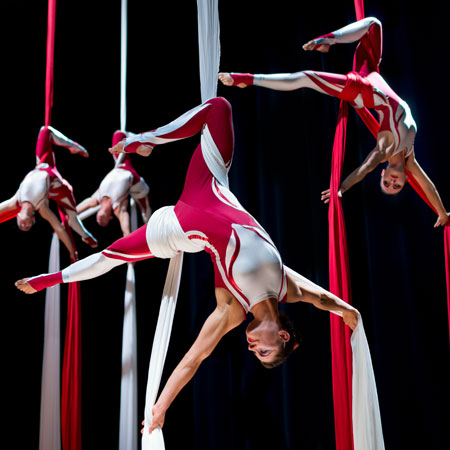 Aerial Silks
Thrill audiences with high-energy and tightly choreographed aerial performance
Choose from a solo aerial silks act, silks duet act or group silks show
Performed worldwide in the Middle East, South East Asia, America and Europe
Previous clients inc Adidas, BMW, Mercedes, Red Bull, T Mobile, BBC, MTV
Based in London, UK and available to perform at events worldwide
Book this incredible aerial silk act for a one of a kind aerial performance at your event. This aerial act is renowned for thrilling audiences with high-energy and tightly choreographed aerial silks displays. The aerial acrobats have performed these amazing acts across the globe and have learnt the art of how to truly excite and entertain the spectator.
The incredible aerial performance is a display of skill and elegance from the highly trained aerial acrobats. They will effortlessly dazzle the audience with a jaw-dropping aerial silks act. Our aerial silks act will stun audiences as the talented gymnasts display their incredible flexibility and balance right before their eyes. The aerial silks can become part of your event decor and the aerial acrobats will be completely mesmerising to watch. 
They perform the most dramatic aerial silks routines with experience, extreme flexibility and professionalism. These aerial act gymnasts have over 10 years experience of putting on high impact aerial performances in many countries including Dubai, Singapore, Hong Kong, Ireland, Italy, Portugal and many more. Previous clients include Adidas, BMW, Mercedes, Red Bull, T Mobile, BBC, MTV.
Customisable options are available to suit your event from a solo aerial act, duets and even group aerial performances. Silks come in red, white, black and blue and have other options available upon request. The Aerial acrobats can also come with a variety of different costume colours such as, but not limited to, gold catsuits, silver and white and red or white corsets. 
To book the awe inspiring aerial silks show for your event, party or special occasion, contact our team of Entertainment Specialists who will be more than happy to help you through the booking process.
Airbus – Aerial show for launch of new aeroplane
Avon – Synchronised silks show
BMW – Giant Snowglobe show
Craft – aerial and acrobatic show
Honda – acrobatic & aerial silks show
LandRover – aerial hoop show with acrobatics
McLaren – acrobatic show
National Theatre – acrobatic show with aerial corde-lisse
Remington – acrobatic dance show
Royal Mail – aerial silks show
Superdrug – acrobatic show
T Mobile – acrobatics
Walkers Crisps – abseiling show
Olympic Torch events – Synchronised aerial silks shows
Cyprus Four Seasons Hotel – acrobatics and hoop show
Dubai Shopping Festival – acrobatics show
Lebanon. White Circus – acrobatics show
Cyprus. Mansion Hotel – Aerial silks and acrobatics shows
Portugal. Skyper Awards – Synchronised aerial silks show
Hong Kong The Peak – Aerial silks show
Ibiza private wedding – Acrobatics in Giant Snowglobe
Singapore Raffles – Aerial silks
Dubai World Cup Horse Race – Synchronised silks
Italy Diageo – Synchronised silks show
Gran Canaria Womad Festival – Silks & acrobatics show
Sweden Cirkus Princessan – acrobatics with fire show
Thailand Paradise Park Bangkok – acrobatics in Giant Snowglobe
Brussels City Council Grand Place Christmas event. – acrobatics in Giant Snowglobe
TV papers & magazines
Walking for Elephants premier – Acrobatics – acrobatics
Chevrolet billboard launch - Aerial
ITV -  Cabot Circus advertisement – Aerial and Acrobatics
Disney Channel Children's Awards – Fire
CBBC - The Slammer – The Giant Snowglobe.
UK:
Audi A1 Launch – acrobatic show
Bank of Scotland – acrobatic dance show
Commonwealth Games Manchester – acrobatic show
Diana Tribute Wembley Stadium – Synchronised aerial silks show
House of Fraser – acrobatic show
London Boat Show – aerial show with silks and hoop
Mercedes – acrobatic show
Red Bull – acrobatic show
Royal Albert Hall Carmen – acrobatic show with fire
Sourz – aerial hoop & acrobatics show
Swarovski – acrobatics with dance
Victoria Square Belfast – Synchronised aerial silks
Wrigleys – acrobatics show
Olympic Opening Ceremony – 2 aerial artists in London 2 aerial artists in Weymouth.
Overseas:
Thailand Bangkok Motor Show – acrobatics show
Macau Fisherman's Wharf – aerial and acrobatics
Morocco. Absolut Vodka – acrobatics in Giant Snowglobe & acrobatic dance
Poland Turkey. BP – acrobatics
Abu Dhabi Golf Tour – Acrobatics show
Singapore Langham Place – doubles trapeze
Northern Ireland. Smirnoff – Aerial hoop show
Turkey Thomas Cook – acrobatics show
Qatar Eid Festival - acrobatics
Ukraine Castrol – 2 aerial artists
Malta private event – Fire show
Amsterdam private corporate event – fire & pyrotechnics show
Hong Kong Langham Place opening - Aerial
MTV awards Madrid on stage with Katy Perry – fire
BBC 1 National Lottery Awards - Aerial
Elle Magazine – Aerial
ITV – Giffords Circus Promotion – Aerial (doubles trapeze)
Channel 4 Sweden 'Nyhetsmorgon' - Acrobatics
Adidas – acrobatics with ground-based hoop
" ...Absolutely fantastic, incredibly professional, flexible and accommodating… the audience enjoyed the entertainment immensely "

Geoffrey Howard, Arab Chamber of Commerce event
" The event was fantastic and Rachel was amazing! Her performance was great and both her and her boyfriend are very nice people, we had a great time with them and even the kids liked her a lot. "

Julie from Zanzibar, private party (Aerial Shows)
" They were the talk of the evening! We had amazing comments about them… They made our event. "

Hitatchi Capital Ltd (Acrobatic and aerial show)
" ...Our event was a marvelous success, breathtaking. The girls were amazing, perfect, highly recommend them. Punctual, very professional & passionate. A real pleasure working with them "

Bob Kaboul, Morocco. Absoloute Vodka Event
" ...The audience certainly did enjoy it. The girls were great & a pleasure to work with. It all went well. Until the next time "

Alex Gorman. Gorman Productions. Portugal
" ...Thank you for making the Abu Dhabi corporate event such a pleasure! I hope we'll have the opportunity to work together again in the future "

Tony Wilkie-Millar, Gandey's Circus
" Rachel and the team did a fantastic job and their professionalism with working with all the different aspects of the show was exceptional, please pass on my thanks. "

Devere Awards 2013 (acrobatic and aerial show at Grosvenor House)
" Excellent. Absoloutely fantastic! "

West Midlands Fire Service (Aerial silks show)
" I had the great honor to collaborate twice with them on two prestigious events: one in Brussels and one in Marrakech. A very professional team who made it possible whatever the circumstances were. Thanks again and I look forward to work with you in the future. "

Alexandre Hourdequin, Talents & Productions, Monaco
IDEA ARTICLES RELATED TO Aerial Silks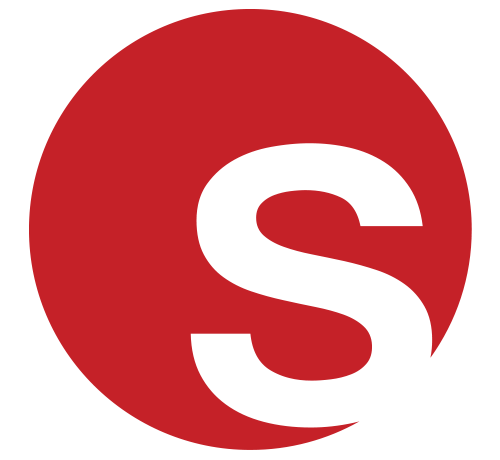 Branded Entertainment Vs Advertainment: How to Display Your Logo at Events with Entertainment
Branded Entertainment Vs Advertainment: How to Display Your Logo at Events with Entertainment
Juliana Rodriguez
|
14/02/2020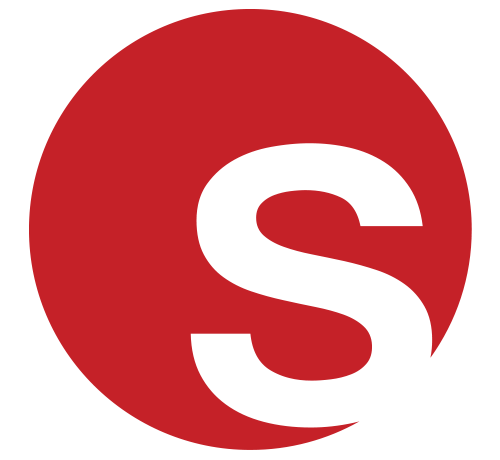 The Greatest Show On Earth 250 Years Of The Circus
The Greatest Show On Earth 250 Years Of The Circus
Grace Henley
|
23/04/2018