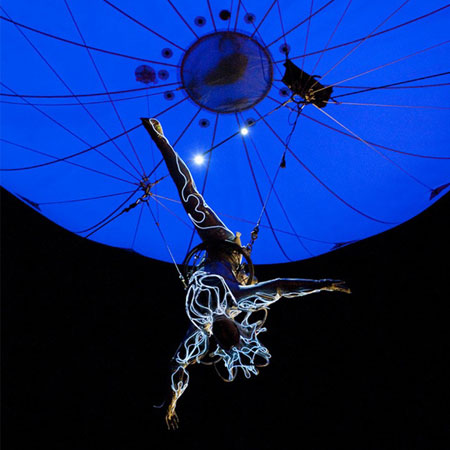 Heliosphere
Incredible and unique interactive aerial performance
Balloon can be customised to display logos, text, images and colours
Can be performed both indoors and outdoors
Have performed in 57 countries around the world
Available to perform at events worldwide
This stunning unusual performance will add an undeniable wow factor to any event!
Comprised of a giant helium balloon with a professional acrobat suspended beneath it, this show offers an impressive acrobatic spectacle that creates and maintains the illusion of flying. A clever, unique and eye-catching spectacle The Heliosphere has the ability to be whatever you want it to be! Interactive or aloof the aerial acrobat can hover overhead like a magical being or swoop through the sky, diving to meet the audience and then rocketing to 20 metres in just a movement! The helium balloon itself can be customised to display logos, text and images and be illuminated in any colour. The acrobat can also wear a range of different costumes.
With the ability to be performed both indoors (minimum ceiling height of 15 metres) and outdoors this performance is perfect for almost any event. They have already performed in 57 countries around the world, performing at over 60 events each year including the Toyota Launch in Doha, HSBC Press Launch in Hong Kong and UEFA Women's Cup Final in Helsinki.
Supported by a professional ground crew, this stunning aerial performance will astound and mystify audiences ensuring that your event is remembered and talked about for a long time to come.
Contact us today and make an enquiry if you're interested in booking this stunning visual spectacle. 
Video Credits: Roger Robinson, Acrobat Productions
Shinsegae Festival Seoul
Venice Carnavale
Omanoil Party Muscat
Wales Rally Millenium Stadium
Wella Hairdresser Awards Lisbon
World Youth Games Pune
Amwaj Islands Opening Bahrain
Bournemouth Airshow
Ann Arbor Top of the Park Michigan
Artown Festival Reno
Christmas Deluxe Covent Garden
AFL Grand Final. Melbourne
Muse Tour Wembley Stadium
Arafura Games Darwin
HSBC Press Launch Hong Kong
Grand Lisboa Casino Opening Macau
New Year Burj el Arab Dubai
Punawallah Wedding Pune
UEFA Womens cup final Helsinki
Kleine Fest. Hannover
Cisco Systems Party Barcelona
Shuiland Chongquing
Xiantiandi Opening Shanghai
BBC Xmas i-dent
Indian Cricket League Opening Hyderabad
Velieffendi Racetrack Istanbul
Chinawhite Rock the Polo
Midland Festival Michigan
Belgrade Festival
Gaddafi Foundation. Benghazi
Toyota Launch. Doha
Muse Tour Parc des Princes
FA Cup Final Wembley Stadium
Americas Cup Launch Alicante
Cirque du Soleil F1 Launch Valencia
Mallorca TV Opening Palma
Donbass Arena Opening Ukraine