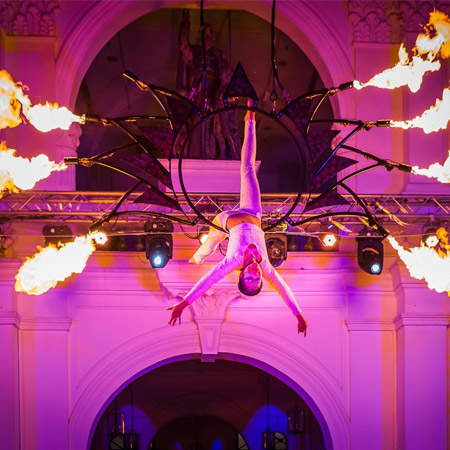 Aerial Hoop Fire Act Singapore
Spectacular, one of a kind fire show combining the dangerous element with aerial elegance.
Angelic choreography and daring tricks performed by our highly skilled aerial hoop artist.
Performers with fire mesmerise and captivate guests of all ages at your event.
Hire fire circus performers for amazing engaging entertainment at private parties, themed events, and more.
Sensational circus event entertainment is available for events in Singapore and worldwide.
Our world class aerial hoop artist is sure to leave guests wanting more as they watch in awe as our beautiful aerialist takes to the sky performing within a ring draped in fire. Our stunning acrobatic fire show showcases our aerialists gracefulness and elegance as she twists her body performing amazing tricks while the dangerous element dances around the ring, creating a beautifully dangerous fun-filled atmosphere. Our highly trained performers with fire will leave guests speechless and dazed after our aerial performer is complete. This form of circus event entertainment will build unforgettable memories with our fire circus performers and your event taking the spotlight.
Our aerial dancer is always improving her art form, and practices almost daily to bring new tricks and dangerous antics to this flammable performance. Performing with spectacular routines that are carefully choreographed to present exact precision to detail, our aerial hoop artist will showcase displays of strength and beauty as she moves through the burning element with ease. Our phenomenal fire show featuring top of the line performers with fire is the ideal circus event entertainment choice for corporate events, themed events, city centre performances, and many more, our fire circus performers will be an instant hit.
Our flexible aerialist is also available to mix and mingle with guests either before or after performances, to truly give your event a popping conversation starter as guests will folk to learn more about our performer and her dangerously elegant performance. Our act can also be fine tuned to fit within most themes and guidelines, and if you're looking for even more customisation, our aerial hoop act can be combined with other amazing Scarlett Entertainment acts to give you even more entertainment freedom.
If you're interested in booking our phenomenal aerial hoop fire act for your next special occasion, contact our amazing entertainment specialists who will guide you through the booking process.