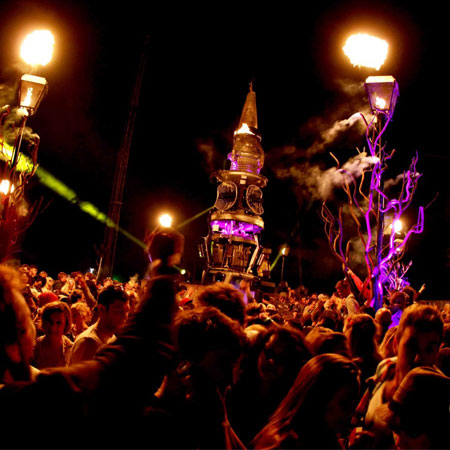 Afterburner DJ
A multi level 360 degree futuristic interactive dance/DJ venue
Fire, music, lights, smoke, sculpture & performance all in synchronicity
Music triggered giant 30ft flame balls illuminate the sky
In huge demand on the festival circuit
Based in the UK & available for events worldwide
The Afterburner is a multi level 360 degree interactive dance/DJ venue. Immersing up to 5000 people in a totally unique melting pot of art, music, fire and special effects.  The central structure shoots giant 30ft flame balls from its spire and 12 surrounding lamppost tree sculptures, along with high-powered lighting, all in time with the music played by a DJ.
By day the Afterburner is a stunning piece of sculpture and functions as a venue and meeting place.  It's space-aged textures and shades can be appreciated in a different light.
As dusk falls and the effects and lights start up the venue takes on a whole new form.  Using the night as a blank canvas the Afterburner beams light and energy into the sky, attracting people into it's unique immersive atmosphere.  The fusion of music, fire, lights, smoke, sculpture and performance all in perfect synchronicity are both breathtaking and mesmerizing!
Built from scrap material previously used by the military, air force and even NASSA, the Afterburner will blow the lid off any event at the switch of a button!