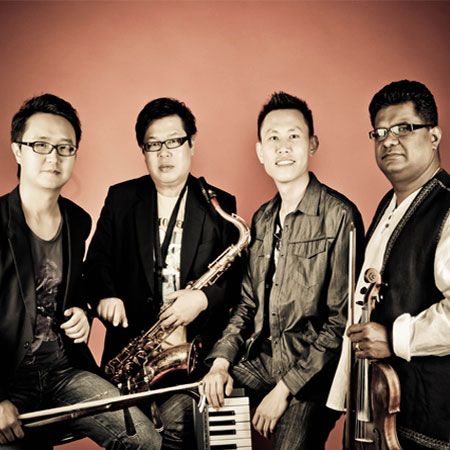 Asian Fusion Orchestra
Award winning orchestra that celebrates cultural & artistic diversity
Every performance takes the audience on an unforgettable auditory journey
A blend of film score, improvisational jazz, Chinese & Indian music
Inspired by the magical journeys in Alice in wonderland
Based in Singapore and available to perform at events worldwide
Asian Fusion Orchestra PHOTOS
Award winning Asian Fusion Orchestra is an ensemble created with the intention of bringing together outstanding musicians from all walks of life, from serious amateurs, professionals, music graduates to students. The musicians hail from all parts of the world including China, India, Japan, Malaysia, Austria, UK and others.
The orchestra is constantly expanding with a vision to inspire young classically trained musicians and traditionally trained musicians to explore beyond their own genres, and to develop artistry through extending their scope of performance, from collective improvisation to playing film music, collaborating with contemporary dance, visual artists etc.
Asian Fusion Orchestra is Singapore's unique contemporary ensemble, creating music that is an exotic fusion of East and West. Inspired by the magical journeys in Alice in wonderland, the band creates music that is both an introspective mirror with which listeners can reflect upon life and themselves, and also portal to new worlds, possibilities and dreams.
Exhibiting influences from a wide variety of composers such as Ryuichi Sakamoto, Ennio Morricone, Keith Jarrett, Igor Stravinsky, this eclectic sextet with their music instruments from Western, Indian, and Chinese classical traditions make every performance an unforgettable auditory journey.
Shangri-La hotel
Singapore Air Show 2014
Journey of the Youth Olympic Flame 2010, Auckland
Coriander Leaf Restaurant
APEC summit
CHUAN pictures
Singapore Arts Festival
Forlina restaurant
Halia restaurant
National Arts Council
Gardens by the Bay (Official opening)
Concierge at Mandarin Oriental hotel
Asian Civilisations Museum
Aedas
NUS
Esplanade
One on the Bund
UOMO
Lantern Bar
" Many musicians have tried to find a uniquely Asian sound that doesn't dumb down the traditions they draw from, and few have succeeded as well as Tze and his band... "

Business Times 16th Dec 2011