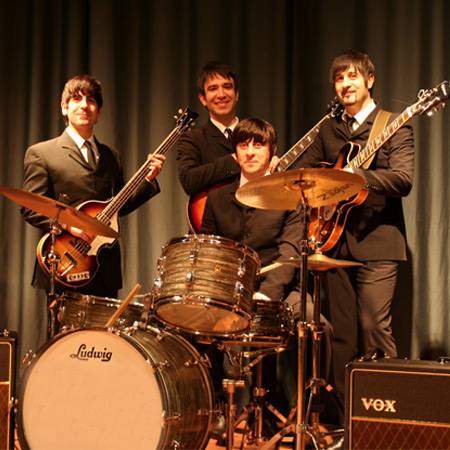 Beatles Tribute Band Italy
A splash into the past of the most famous group of all time
Shows that look incredibly close to what the Beatles themselves staged
They have a vast repertoire covering the whole of the Fab Four's Career
Recorded their songs in the same Abbey Road studios as the Beatles
Based in Sardinia and available to perform at events worldwide
Beatles Tribute Band Italy PHOTOS
The Beatles Tribute Band Italy are a tribute act based in Sardinia who have been performing regularly since 2003.
Their live performances are reminiscent of the 60s, a highly detailed show put together so it looks incredibly close to what the Beatles themselves staged in their live shows, from the musical instruments down to the costumes.
They have over 500 shows under their belt playing all the major cities in Italy, including performing at the Beatles Day three times in Brescia as well as countless TV performances on the major Sardinian channels and two on the national public channel RAI.
The band's repertoire is vast, so much so that it covers the whole Fab Four's career...from She Loves You to Let It Be then singing through A Hard Day's Night, Michelle, Can't Buy me Love, Yellow Submarine, Come Together, Ticket to Ride, Help!.
Beatles Tribute Band Italy are a splash into the past, taking us all back to the great vibe and brilliant music created by the most famous group of all time: The Beatles.