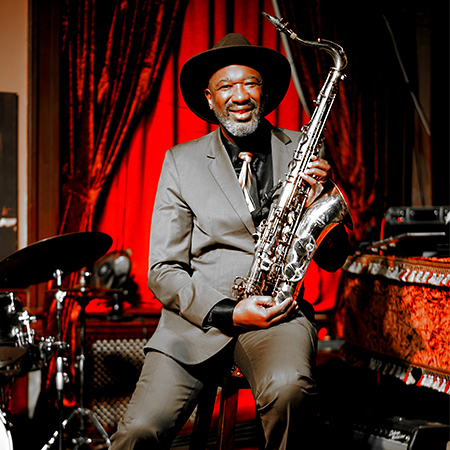 Blues Sax & Singer
Talented and versatile singing saxophone player delights listeners with his deep dark voice and sax playing skills
Male blues singer and saxophonist plays Chicago style sax and can also play the harmonica
Has collaborated in numerous musical projects and toured the world as a guest musician and with his own band
Ideal live music entertainment for festivals, corporate events, dinners, receptions, private parties, and more!
This Blues Sax and Singer is based in Sweden and available for international performances
Blues Sax & Singer PHOTOS
Ensure guests at your party enjoy an evening of the best blues music by booking this Blues Sax and Singer, a versatile artist who can delight audiences with both his voice and his sax playing skills. 
A versatile performer, this blues sax player is also a talented vocalist who can also play the harmonica. Originally from Oklahoma, this blues sax player and vocalist specialises in what he calls American folk music: blues, country, soul and rock n roll.
Arranging classics by adding elements of deep house and chill out music, this male blues singer's live performances are a unique musical experience. As a solo performer or accompanied by other live musicians, our male blues singer and saxophonist is guaranteed to win audiences over with his deep dark voice.
Our blues sax player considers himself to be the inventor of Blues House. Combining electronic wind instruments with the electric guitar, he creates a unique sound that is the perfect mix of heavy metal and jazz music. 
Having collaborated with numerous artists and musical projects throughout his career, this singing saxophone toured with Michael Bloomfield Band in the late 70s, has recorded several CDs and toured with his own band around the world, having visited countries such as Japan, Thailand, China, Iceland and Spain, among others.
A popular live music entertainment for a diverse variety of occasions, our male blues singer and musician is the perfect choice for festivals, corporate events, dinners, receptions, private parties, and more!
Scarlett Entertainment offers a wide range of live music entertainment for events and occasions in Sweden and worldwide.
Book this talented Blues Sax and Singer by contacting us today. Our wonderful team of Entertainment Experts will be more than happy to answer all the questions you may have about this singing saxophone player and assist you with your booking.