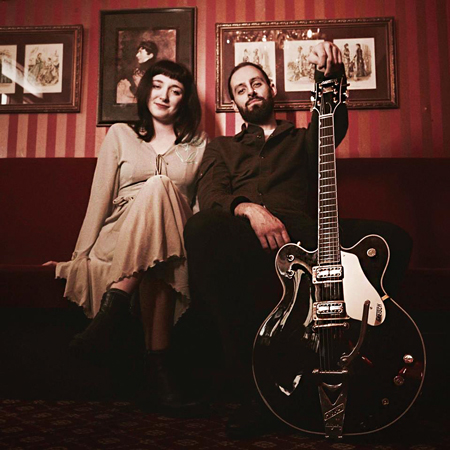 Brighton Jazz Duo
Fantastic vintage vocal and guitar duo that draws inspiration from the golden era of jazz
Their live vintage jazz ranges from arrangements of timeless jazz standards to more contemporary sounds
Repertoire includes songs by Ella Fitzgerald, Frank Sinatra, Marilyn Monroe Amy Winehouse and Ed Sheeran
Subtle atmosphere with a delightful live music for everything from weddings to corporate functions
Based in Brighton and available for events all throughout the UK
Drawing their inspiration from the golden era of jazz, this vintage vocal and guitar duo create a truly enchanting and unforgettable atmosphere with a delightful live music experience. Our Brighton Jazz Duo perform classic covers and fantastic songs from the Great American Songbook that hark back to a golden age of jazz performers of the early 20th century as well a spinning a vintage jazz twist on more contemporary songs. 
The Brighton Jazz Duo offer a sophisticated style of melancholy vintage jazz where the gentle but intricate guitar is accompanied by soft delicate vocals. Their live music is relatable and accessible to audiences of all ages. The vintage vocal and guitar duo work on careful adaptations of timeless vintage jazz standards, that date as far back as the 1930s, through to arrangements of popular and all-time favourite soul and pop tunes. 
During a live performance our Brighton Jazz Duo will serenade your guests with the songs of Ella Fitzgerald, Nay King Cole, Frank Sinatra and Marilyn Monroe through modern songs by Amy Winehouse, Ed Sheeran, Hiatus Kaiyote and Kate Bush all given a vintage jazz twist. 
Having performed at the likes of The Grand Hotel, Harbour Hotel, The Regency Tavern and Craft Beer Co in their hometown, the vintage vocal and guitar duo can provide elegant live music for any occasion whether its a wedding reception or a corporate event.
Top Tip:
The vintage vocal and guitar duo is available as a trio on demand. 
Contact us at Scarlett Entertainment to book the Brighton Jazz Duo for your upcoming party or event. 
Bing Crosby - I've Got Pocketful Of Dreams
Cole Porter - I Get a Kick Outta You
Corinne Bailey Rae - Put Your Records On
Dusty Springfield - Spooky
Ed Sheeran - Shape Of You
Ella Fitzgerald & Joe Pass - I'm Beginning To See The Light
Ella Fitzgerald & Joe Pass - The One I Love Belongs To Somebody Else
Ella Fitzgerald & Joe Pass - You Turned The Tables On Me
Fats Waller - I'm Gonna Sit Right Down and Write myself a Letter
Frank Sinatra - The Lady Is A Tramp
Hiatus Kaiyote - Nakamarra
Hoagy Carmichael - Lazy River
Amy Winehouse - Stronger Than Me
Kate Bush - Babooshka
Kelis & Andre 3000 - Millionaire
Lianne La Havas - Age
Louis Armstrong - After You've Gone
Louis Jordan - Is You Is Or Is You Ain't My Baby?
Marilyn Monroe - I Wanna Be Loved By You
Nat King Cole - It's Only A Paper Moon
Nat King Cole - Straighten Up And Fly Right
Rihanna / Freed & Herb Brown - Umbrella/Singin' In The Rain
Roberta Flack - Feel Like Makin' Love
The Cardigans - Lovefool
Ilene Woods - So This Is Love?