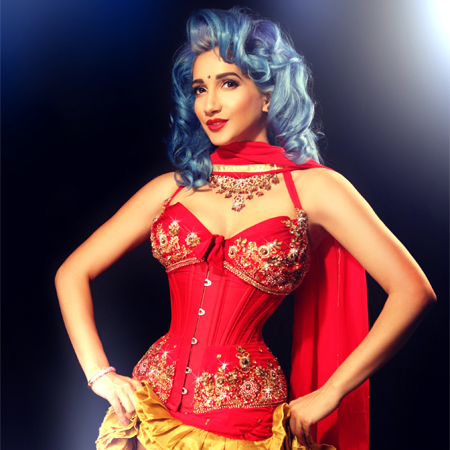 Burlesque Act Sukki
Global burlesque superstar booked for world-class shows and corporate events
Voted the Top #1 Show to see in the whole of New York
Invited to Buckingham Palace by the Queen in recognition of achievements
Previous clients include Jaguar, Esquire, Olympus, RBS, Time Out...
Based in the UK and available to perform at events worldwide
Burlesque Act Sukki PHOTOS
Sukki rose to stardom when she stormed the Burlesque industry in 2011 with her debut performance at a Las Vegas styled comedy theatre in the North of the UK. Since then she has become one of the most talked-about and in-demand Burlesque artists in the world, with an international fanbase of over 450 thousand Facebook visitors per day.
Crowned "one of the Most beautiful women in Burlesque" (Female First) and "Ambassador of Burlesque for Singapore" (Chwennyland), Sukki gained phenomenal global recognition by being the World's first Professional Burlesque Performer from Singapore, capturing the imagination and heart of the nation. Her work as a role model for Asian women and men in the Arts saw her nominated for London's Asian Women of Achievement Awards in 2013, during which she was praised by former UK PM's leading lady, Cherie Blair and BBC correspondent Reeta Chakrabarti. Her outstanding achievements lead to a Royal Invitation to Buckingham Palace, firmly securing her position as one of the most phenomenal Burlesque Artists of our time.
A Global Burlesque Superstar, booked for world-class shows and corporate events, her previous clients have included: JAGUAR, THE STRAITS TIMES, RAZOR TV SINGAPORE, THE INDEPENDENT ON SUNDAY, RBS, TIME OUT NEW YORK, ESQUIRE, OLYMPUS (ad campaign with award-winning photographer Damian McGillicuddy)... and many more.
Sukki is known for her lavish and elaborate performances and costumes, which she intertwines with a unique Bollywood-influenced style. Her gowns and corsets are encrusted with thousands of Swarovski Crystals, antique lace and extravagant jewellery which adorns her breathtaking silhouette.
Contact one of our Entertainment Team who will be able to assist you in booking this or any other act on our roster.
The Merlion Strut
Sukki performs a sassy sexy American style bump and grind over a catchy oriental jazz instrumental. Watch her whip up a frenzy with the shimmy of her hips as she commands the stage in homage to a mythical beast the Merlion.  Seducing the audience with an extravagant outfit and the wink of an eye this is a perfect showgirl finale for any event.
Introducing Miss Singapora
Sukki performs the ultimate fusion of traditional burlesque and Bollywood Glamour. This act is dripping with oriental opulence and the poise and stylistic influences of western tease. Brace yourself for a showcase of Burlesque glamour from Singapore. Expect a set of one of the world's largest palm leaf burlesque fans and a stunning veil dance. (Can be performed without striptease).
The China Darling Showgirl
A dazzling nod to the pioneers of Burlesque Sukki performs a dramatic and thrilling striptease set to entice any audience into her charm. Showcasing an outstandingly artistic routine and jaw-droppingly beautiful sparkling gold and emerald costume Sukki glides across the stage to the remix of an intricate symphony.
Sparkle for Singapore
The classic vintage Hollywood silhouette like you've never seen it before. Out of a dreamy mist of smoke enters a new breed of star... in a crystal-encrusted shimmering gown with glistening Singapore orchids running through her hair and a huge tiger claw-tipped organza boa wrapped around her 18" waist Sukki performs a ravishing tease seducing exciting and climaxing the audience into red-hot rapturous applause.
Act List & Bespoke Packages
The Martini Glass
Any of the above acts can end with a striptease inside a giant Martini Glass. Recommended for opulent events and best when added with the act: Sparkle for Singapore.
The Giant Stiletto
Any of the above acts can begin or end with inside a giant Stiletto Shoe. Recommended for large events and best when added with the act: Sparkle for Singapore or Introducing Miss Singapora.
Singing
For special events Sukki is able to perform renditions of a wide range of classic songs from the 1930s – modern
Bespoke Packages
RBS
Time Out New York
Esquire
Jaguar
The Independent on Sunday
The Straits Times
And many more...
Olympus
" THE BEST SHOW I have seen all year, hands down. Killed it. "

Lyndsey, Burlesque Critic, San Francisco
" Sukki was absolutely amazing. So glad to have caught her first show in our fair city "

Event Crew, Los Angeles
" Sukki was absolutely wonderful and she made the party much more fabulous than it would have been without her!!! I can't thank her enough!!!!! "

Lisa, Corporate Client, San Francisco
" The #1 Event in the whole of New York City "

Time Out Magazine, New York
IDEA ARTICLES RELATED TO Burlesque Act Sukki