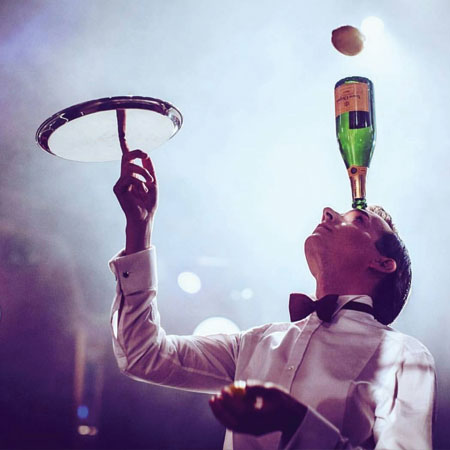 Champagne Juggler
A champagne juggler who brings sophisticated entertainment to every event
The perfect surprise waiter act that will astound audiences of all ages
Perfect for cocktail hours, gala dinners, corporate events and black tie events
Graduated from the Ecole Superiore des Arts de Cirque in Brussels
Based in London, UK and available for worldwide bookings
Juggling your champagne bottle, ice cooler and glass this is not your standard waiter! The perfect addition to any event whether it be a corporate event, private party, gala dinner or cocktail hour, this brilliant champagne juggler takes a step towards the salon juggler, an act who can juggle different types of objects found in a civilised house. 
Bringing a touch of elegance and sophistication, this waiter will surprise all of your guests with his advanced performance that sees him balance champagne glasses on his chin, throwing and catching everything from plates to ice buckets! A guaranteed hit at every event this slick waiter act will impress guests of all ages.
Having graduated from the Ecole Superiore des Arts de Cirque in Brussels this top class circus performer quickly became a popular choice for his juggling and manipulation act, performing in high end cabaret shows and variety acts at arts festivals, corporate events and private parties.
Playing a loveable character this champagne juggler makes for the ultimate surprise waiter act, guaranteed to create a buzz at every event and stop people in their tracks. Acting as if he is up to no good this exquisite and cheeky performer quickly impresses with his unstoppable multitasking abilities and hand eye coordination. 
Bringing many different props into his act there is never a dull moment with this top class performer as he jugglers champagne bottles, glasses, fruit, and even ice bucket stands!
Guaranteed to add elegance, sophistication and humour to every event this champagne juggler is perfect for all occasions. 
To book our brilliant Champagne Juggler for your next event or for more information, contact our Entertainment Specialists today.