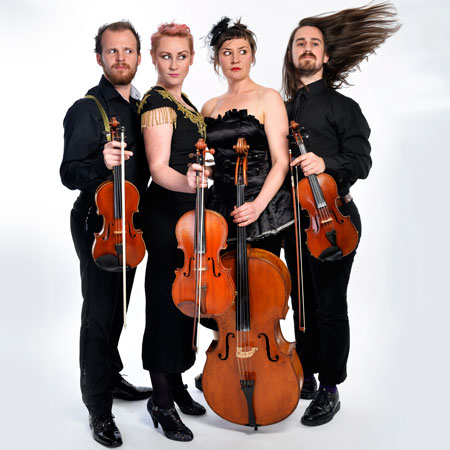 UK Comedy String Quartet
Eccentric, unique and humorous singing and dancing string quartet
Comedy and music spectacle like you've never seen before
Previous clients include Samsung, Buckingham Palace, Burj Al Arab, Mohammad Ali and the BBC
Comedy music show can be enjoyed by audiences of all types
Based in London and available for events all over the world
UK Comedy String Quartet VIDEOS
UK Comedy String Quartet PHOTOS
This totally unique string quartet step firmly away from the stuffy confines of chamber music and instead of sitting peacefully into the background, they take to the stage for a sidesplittingly funny performance like you've never seen before. Classical music, opera and modern comedy have never been so good together. 
The completely eccentric and unique Comedy String Quartet are a multifaceted music and comedy sketch group made up of four classically trained musicians. Their all-singing, all-dancing Cabaret and Vaudeville-style comedy music show really is an experience like no other. The comedy musicians combine virtuosic string quartet performances with classy vocals, witty lyrics, hilarious comedy and energetic dance moves.
Our Comedy String Quartet's theatrical music show incorporates music, singing, dancing and storylines. They create their own soap opera stories, olympics performances, News reports and much more. They leap and bound around the stage singing opera whilst seamlessly still playing their instruments without a single fault. 
The London-based unique string quartet are everything you need that isn't background music or a stand up comedian. However, they can if you want perform as a regular string quartet. They fill any event with joy and laughter and make a the perfect entertainment as the finale to your gala dinner, ceremony, corporate event of private event. 
The comedy musicians have travelled the world with their unique act from Brisbane to Barbados, Norway to the Outer Hebrides. A favourite at festivals and theatres the world over, the Comedy String Quartet have that special appeal to all ages and walks of life.
Get in touch with our team at Scarlett Entertainment to book this unique comedy music show for your event or party.
Buckingham Palace Henley Festival
Canal Plus
Discovery Channel
ITV
MTV
NRK
Panasonic
Mercedes
Shell
Hello! Magazine
BBC
Burj Al Arab
Croissant Neuf Solar Circus H
ICI
Land Rover
Mohammed Ali
Orange
Samsung
XTRAX
Brisbane Festival
" A show that kept an audience from six-years-old to sixty amused. Pure gold "

Broadway Baby
" You'd never have imagined that anyone could incorporate classical music and modern comedy quite so brilliantly. "

Performance Reviewed
" We were amazed by the virtuosity of people who could dance, sing and perform acrobatics at the same time as playing music of such high quality "

Andrew Whitney