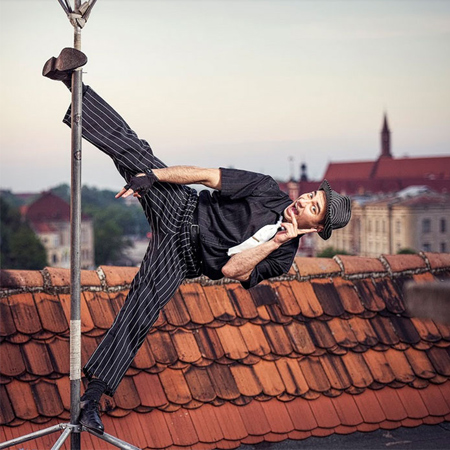 Chinese Pole Acrobats
Chinese pole acrobat performs outstanding feats of strength, balance and agility
Polish acrobats can perform hand to hand balance, acro shows and hand balancing in addition to Chinese pole routines
Poland's Got Talent Semi Finalists
Chinese pole acrobat can customise performance to suit a theme, colour scheme and specific event
Based in Poland and available for worldwide bookings
Chinese Pole Acrobats PHOTOS
Our Chinese pole acrobat boasts a performance packed with showmanship, strength, balance and agility. With phenomenal athleticism, this Poland's Got Talent Semi Finalist astounds all audiences with his unbelievable ability and talent.
Part of a duo acro act our Polish acrobats offer a range of line up options from hand to hand balancing as a duo or trio, acro showcases and solo Chinese pole performances.
Boasting a performance that can be completely customised to suit your event, our Chinese pole acrobat can wear costumes to suit the theme as well as tailoring his performance to feature a storyline that enhances your event and tells a story through acrobatics and character. 
Perfect for cruise ships, corporate events, private parties, themed events and any occasion that desires a top class acrobat to astound everyone in the room with his unstoppable talents and remarkable strength. 
Creating stunning shapes in mid air this acro act boasts an incredibly impressive and thoroughly entertaining set that provides audiences with lasting memories. With an extensive background in performing to large audiences all over the world, our Chinese pole acrobats certainly know how to entertain a crowd as they build suspense and add to the narrative before revealing outstanding stunts and super human strength.
Top Tip:
If you are looking for a showstopper act then why not incorporate our Chinese Pole Acrobat with his Polish Acro Team for a stellar performance that blends teamwork, acro routines and hand to hand balance with Chinese pole. 
To book our Chinese Pole Acrobat or for more information, contact our Entertainment Specialists today.