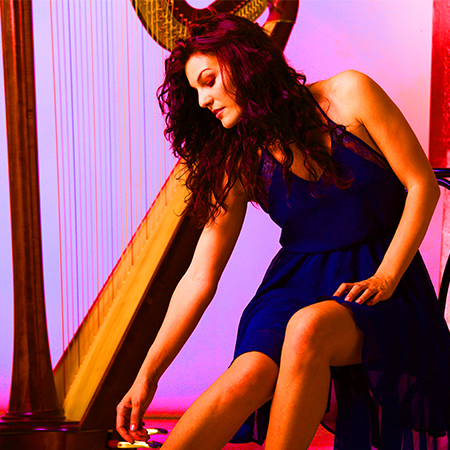 Classical Harpist Italy
A talented harp player who can perform stunning classic music concerts and also play live jazz music
Can perform alongside a live singer and a flute player if required
Has performed alongside big names such as Andrea Bocelli, Aida Copper or Mario Rosini
Her repertoire includes classic, jazz and pop tunes and can be adapted to suit any event requirements
Italy-based and available for performances al around the world
Classical Harpist Italy PHOTOS
Delight classic music listeners at your upcoming celebration with our Classical Harpist, a talented live classical musician who can perform an outstanding classic music concert and also play live jazz music and pop melodies.
Our talented harp player is a versatile artist who can adapt her repertoire to suit your event specific requirements. She can play different classic melodies as a soloist or accompanied by a live singer and a flute player if required.
This live classical musician has a successful career behind het. Our talented harp player has both professional and academic experience. His studies, talent and passion for classical music has led her to perform alongside big names such as Andrea Bocelli, Giorgio Panariello, Aida Cooper and Mario Rosini, to name a few.
Besides these collaborations, she has also participated in several jazz festivals and performed at various competitions and events throughout her career. Her charming personality and the big smile she always wears effectively transmits audiences her passion for music, and in return, listeners are always mesmerised by her technically perfect and emotional playing
Widely applauded by both classic music lovers and jazz fans, this live classical musician is guaranteed to make any event an occasion to be remembered. Although based in Italy, she's available for performances all around the world.
Top Tip:
Our Classical Harpist can offer classic music concerts as a soloist but a flute player and a singer can join her on stage if required. They can play both, classic music or jazz melodies.
At Scarlett Entertainment, we pride ourselves on providing harpists for events all around the world.
If you're interested in booking this amazing Classical Harpist, do not hesitate to get in touch with us today and ask to speak to one of our entertainment coordinators. They will be more than happy to answer all your questions.