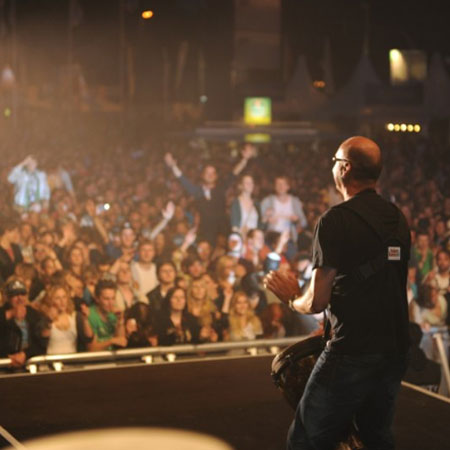 Club Percussionist
Electrifying drum show will have audiences on their feet all night
Over 14 years of experience playing live percussion at events
Shared the stage with: The Disco Boys, Milk & Sugar & Markus Gardeweg
Can also offer event percussion & percussion workshops
Based in Germany & available to perform at events worldwide
Club Percussionist PHOTOS
This versatile live percussionist has over 30 years of percussion experience, having started playing from a young age, and over 14 years of professional performances experience playing at high-profile public and private events across Germany.
He specialising in performing live percussion alongside top DJs such as The Disco Boys, Syke'N Sugar Starr, Patrice Bouédibéla, and Markus Gardeweg, and his dexterous rhythms and explosive beats have packed out some of Germany's largest venues. His style has its own distinctive sound and is full of a vivacious energy that will have audiences on their feet well into the night.
As well as playing alongside top DJs at club nights, he can also offer a percussion show for daytime events such as corporate functions, meetings, and lunches. He can perform as a solo percussionist or alongside three or more drummers, creating a unique vibrant atmosphere that will entertain and impress guests. This talented live percussionist can also offer percussion workshops and team building activities for corporate clients, and has worked with global companies such as AOL, BP, Fujitsu Siemens, Shell and HASPA.
Whether you're looking for a live club percussion to accompany a DJ, percussion for an event or an interactive workshop, this extremely experienced and talented percussionist can provide the perfect entertainment for your needs.